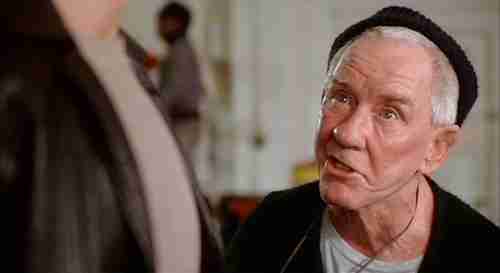 According to the bio of Mickey Goldmill, he had a spectacular record of 72 and 1, with 70 by way of Knockout; which incidentally was a much better record than his famed protégé, Rocky Balboa, who had a myriad of losses prior to facing Apollo Creed in Philadelphia. The Jewish pugilist claimed that he knocked a guy out of the ring on the same night that Luis Firpo did the same to Jack Dempsey, and stated that since he had no manager, he never got noticed, nor did he get a chance.
Mickey considered Rocky to be a good fighter, which threw away his talent and thus often berated the "Italian Stallion" calling him a "bum" in front of everyone. Mickey would eventually come to manage and train Balboa, when he was pegged to receive the bi-centennial promotional match against the Heavyweight Champion, Creed, and though Rocky did not win, he went the distance with the champ, becoming the first ever to do so, and was living up to the potential that Mickey knew he had all along.
We will say this though. We hated the way Mickey was displayed in Rocky III, having the champ duck quality opponents and dying unceremoniously after the Balboa/Lang fight. It made you wonder, did Mickey not know the secret of the "Eye of the Tiger"?
The Fictitious Athlete Hall of Fame is pleased to welcome Mickey Goldmill into the Class of 2017.
The Bullet Points:
Movies Appeared:
Rocky (1976)
Rocky II (1979)
Rocky III (1982)
Actor:
Burgess Meredith
Role Portrayed:
Trainer of Rocky Balboa
{youtube}
9SDJj9yyqds
{/youtube}
Related items