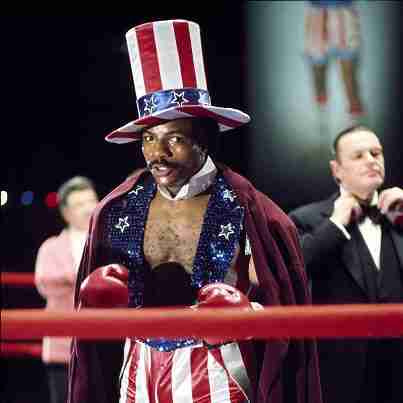 For Rocky Balboa to become the most iconic hero in sports cinema, you needed a credible opponent. It does not get much better than the ying to Rocky's yang, Apollo Creed.
Apollo Creed was modeled after the then Heavyweight Champion of the World, Muhammad Ali. It could have come off like a cheap imitation, but Carl Weathers was given the chance to give the Creed character multiple dimensions, and as such it never came off like a caricature of Ali.
Weathers looked every bit the part. Creed was billed as the undefeated Heavyweight Boxing Champion of the World, and defeated Balboa by a narrow decision in the first Rocky. He lost by 15th round knockout in the sequel, in what was probably a better cinematic fight than the first flick. We want to forget Rocky IV, where he was dismantled by Ivan Drago in what had to be the worst ending to an athletic character (though we kind of like Drago), but overall we loved:
The Master of Disaster
The King of Sting
The Dancing Destroyer
The Prince of Punch
The Count of Monte Fisto (our personal favorite)
Seriously, do nicknames get better than this?
The Fictitious Athlete Hall of Fame is happy to welcome Apollo Creed to the 2016 Class.
Related items