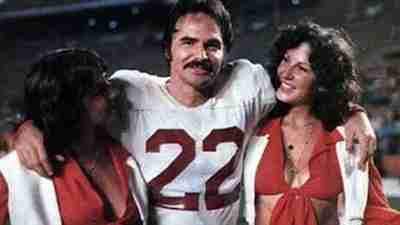 On the one hand, we loved 1970's Burt Reynolds and his slimy, yet undisputable charm. We also love the name "Billy Clyde Puckett" as one of the all-time greatest sports character names. On the other hand, the common criticism for Semi-Tough is that for a movie that looks like it is about Football; it really isn't. Rather it is a love triangle set on the backdrop of a gridiron with a spoof on New Age thinking (which doesn't exactly age well). We'll say this, Reynolds got the girl in the end, so….victory for the Bandit?
The Bullet Points:
Movie Appeared:
Semi-Tough (1977)
Actor:
Burt Reynolds
Position Portrayed:
Running Back
Played for:
Miami Bucks
Why you

should

vote for him:
Burt Reynolds is practically a god for this Hall of Fame.
Why you

should not

vote for him:
Like we said, for a football film, there was not a lot of football in it.
Related items