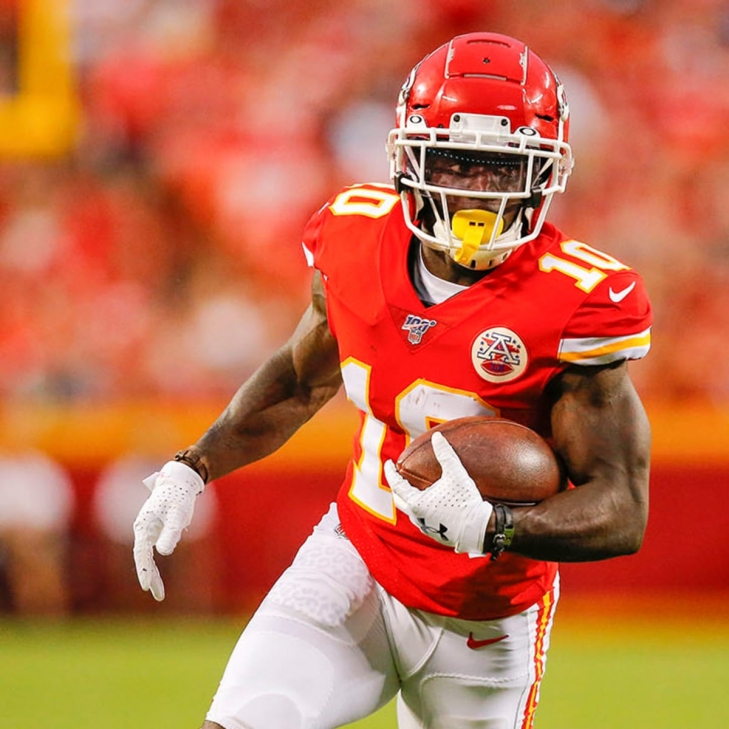 Tyreke Hill had his share of off-field trouble when he was a star at Oklahoma State, and he had to relocate to Western Alabama. Nevertheless, concern about his domestic violence arrest cost him draft spots, which dropped the talented Wide Receiver to the Fifth Round, where he was chosen by the Kansas City Chiefs.
Hill had 860 Yards from Scrimmage and was the Chiefs primary Punt Returner, for which he led the NFL in Punt Return Yards (592) and was a First Team All-Pro. He was still returning punts in his second and third campaign but was now starting at Wide Receiver, and has to date eclipsed the 1,100 Yard mark, with his current high being 1,479 in 2018, which became his second First Team All-Pro year. Hill's production dipped below 1,000 Yards in 2019, though that was due primarily to missing four games due to suspension. Regardless, Hill still was a Pro Bowler, and in that year's Super Bowl, he was fantastic, catching nine passes for 105 Yards in their win over San Francisco.
Hill played a sixth and final season with Kansas City, and again was chosen for the Pro Bowl, giving him a clean sweep in terms of his Chiefs tenure. Hill was traded to the Miami Dolphins in 2022, ending his Chiefs totals to 67 Touchdowns and 8,745 All-Purpose Yards.