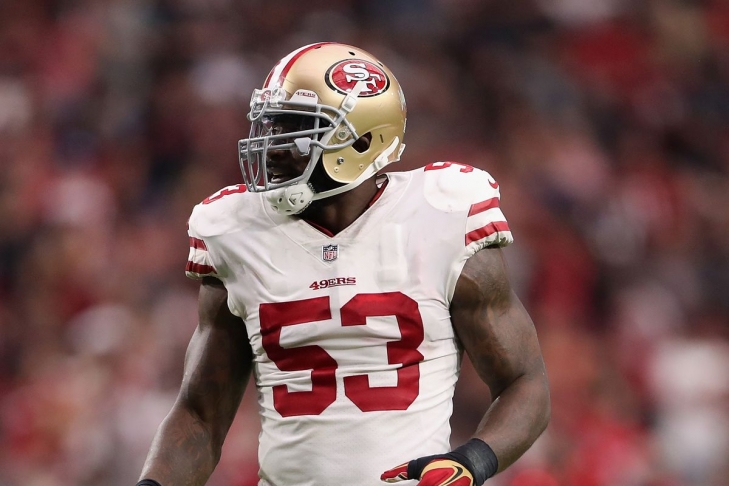 NaVorro Bowman has officially retired from the Pro Football after last competing in 2017.
Bowman was a 3rdRound Pick by the San Francisco 49ers from Penn State in 2010 and he would become a starting Inside Linebacker in his second season. It was a breakout year as he would be named a First Team All-Pro and record 143 Tackles and was a large part of what was considered a renaissance for the 49ers defense.
The Linebacker would continue his interior dominance in 2012 as he would have his second straight First Team All-Pro Selection, would finally get the Pro Bowl nod that eluded him the year before and had his second straight 140 Tackle season. More importantly, he was part of a Niners team that went to the Super Bowl in a losing effort against the Baltimore Ravens where he had nine Tackles in the game.
2013 would see Bowman again go to the Pro Bowl, achieve First Team All-Pro accolades and hit the 140 Tackle mark but a torn ACL and MCL kept him out of 2014. He would make a comeback in 2015 with a career high and NFL high of 154 Tackles with a third Pro Bowl and fourth First Team All-Pro selection. This would be the last good season of Bowman's career as 2016 was riddled with injuries and he was benched and released in 2017. He would finish off the year with the Oakland Raiders.
Bowman is not a strong candidate for the Pro Football Hall of Fame but will be eligible in 2023. We will be adding his profile next month.
We here at Notinhalloffame.com would like to thank NaVorro Bowman for the gridiron memories and we wish him the best in his post-playing career.