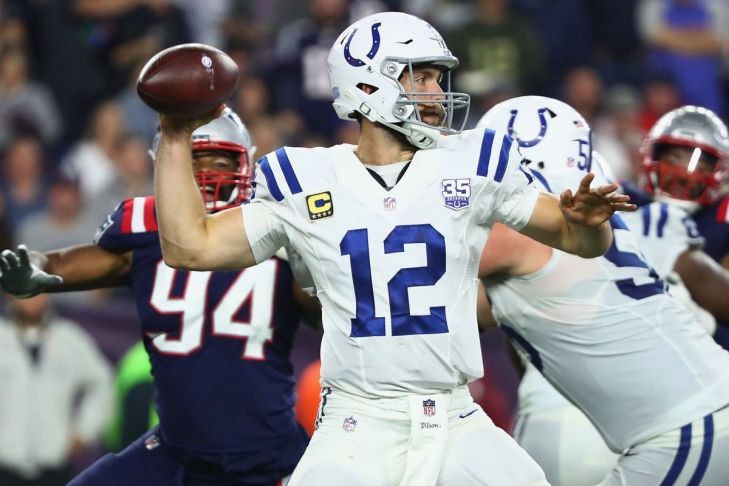 This is a stunner.
A couple of weeks ago, The Indianapolis Colts were hopeful that their star Quarterback, Andrew Luck would be able to start Week 1 after dealing with a calc/ankle injury. A few days ago, they weren't certain that he would be able to make it for the first regular season game, but would eventually be ready early in the season. Not only is he not going to play this season, he has announced that he will formally retire for the National Football League at age 29.
Luck was the first overall pick in the 2012 Draft and would be named to the Pro Bowl in his first three seasons. In 2014, he threw for a league leading 40 Touchdown Passes, with a career high 4,761 Yards.
Injuries piled up on the pivot and he was forced to sit out the entire 2017 season, though came back last year to throw for 4,593 Yards and 39 TDs. He would go to his fourth (and presumably, final) Pro Bowl and was named the Comeback Player of the Year.
Often, when players retire, we assume they will stay retired, despite the fact that players have bucked that and returned shortly after. Perhaps, because of his age and his citing of "mental" reason as opposed to physical, we think there is a good chance that we will see him again and selfishly we hope so. This was one of the best QBs at one time, and pundits and fans still felt that there was a lot left in what was pegged once as a future Pro Football Hall of Famer.
As it stands now, Luck is unlikely to make Canton.
Taking our "Hall of Fame" hat off, we here at Notinhalloffame.com are hopeful that Andrew Luck heals and enjoys his post-playing career.