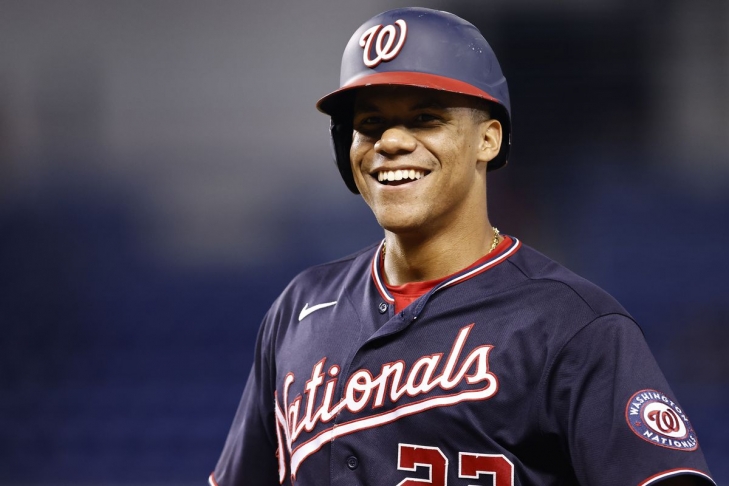 The process continues.
We here are Notinhalloffame.com have plans to create our own set of post-season awards, which we will look back and retroactively present from 1901 on. That will take a while, but it has never stopped us before!
Our awards are not be league specific.
Now it is time for our 2021 positional awards.
We will be awarding a positional player of the year, but not only that, offer up the runner-up and second runner-up, meaning that we will have First, Second and Third All-MLB players.
Let's work our way around the diamond and award the best of the best in Baseball!
*Please note that to qualify, a player must appear in that position at least 50% of the time.
Rightfielder of the Year (First Team All-MLB): Juan Soto, Washington Nationals. 7.0 bWAR, 6.6 fWAR, 157 H, 29 HR, 111 R, 95 RBI, 9 SB, .313/.465/.534/.999.
An All-Star for the first time this year, Juan Soto led the National League in Walks, and for the second year in a row, he was first in OBP. Soto was also second in the NL in OPS and OPS+ (175).
Second Team All-MLB: Rightfield: Bryce Harper, Philadelphia Phillies. 5.9 bWAR, 6.6 fWAR, 151 H, 35 HR, 101 R, 84 RBI, 13 SB, .309/.429/.613/1.044.
We could easily have gone with Harper over Soto, and it was a last-minute decision to go with Soto, as Harper had a bad defensive year. Harper was the one to beat Soto in OPS and OPS+ (179), and he also led the NL in Doubles (42).
Third Team All-MLB: Rightfield: Aaron Judge, New York Yankees. 5.9 bWAR, 5.5 fWAR, 158 H, 39 HR, 89 R, 98 RBI, 6 SB, .287/.373/.544/.916.
Despite Judge's great season, he is only Third Team, based on the accomplishments of Soto and Harper.