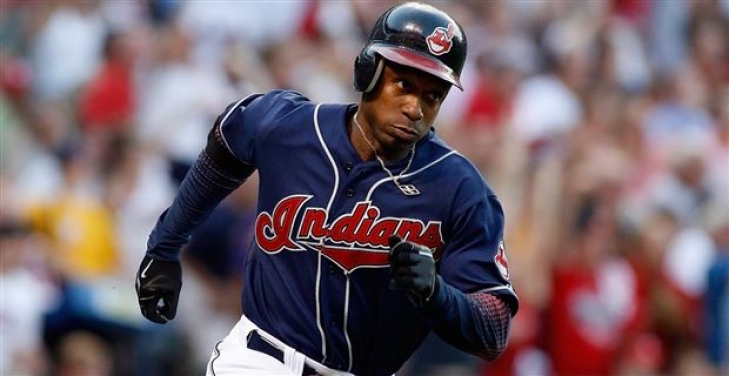 This one is really interesting to us!
In an interview with the New York Post, former Outfielder Kenny Lofton was very blunt about his feelings about why he is not in the Baseball Hall of Fame. He had this the following to say:
"I was expecting to do better. But I'm a realist. I look back at the situation, and at that time, I think what happened for me was I came out on the ballot in the wrong year. There was so many people on the ballot, and so many people who had a potential situation with the performance-enhancing drugs. I felt a lot of voters wanted to keep those guys on the ballot, and that was votes taken away from me…
…I just don't like it. It pisses me off when they still talk about the guys who did PEDs still have the opportunity to get in. You cheated the game. Look at somebody like Pete Rose not in the Hall of Fame. I'm not saying what Pete Rose did was right, but his numbers that he put up were real numbers. If it's all about numbers, guys who cheated the game shouldn't be in. PED guys piss me off. I just get irked every time I hear people talk about it.
You've got Fox having a guy who got caught with PEDs doing the World Series. I can't even watch the World Series now. That's sad, you have a game that I love, I played 17 years in it, and you have Major League Baseball allowing a guy that knowingly cheated the game twice, and he's the face of baseball, doing the World Series. That is not cool.
To see somebody who cheated the game blatantly is doing the World Series? Come on, people. You're basically telling kids nowadays that it's OK to cheat the game of baseball."
When you take a deep dive into the 2013 ballot, Lofton isn't wrong. First off, Lofton entered the ballot the same year as Roger Clemens, Barry Bonds and Sammy Sosa. All three of those players have been accused of PED use and it is widely believed that they did partake in those and substances. With Clemens and Bonds you have in terms of individual awards and statistics these this is the best pitcher and hitter respectively in their day. Sammy Sosa at one time was also considered a lock. Clemens would receive 37.6% of the vote while Bonds was slightly behind at 36.2%. As for Sosa he had a paltry 12.5%.
Leading up to this ballot many of the baseball writers who had Hall of Fame votes were open upon their disdain for the suspected (and proven) PED users. Some of them went as far as to publicly question the entire era and ballot. Comments such as "we don't know who cheated" became commonplace and it was clear that there was going to be a backlash.
Keep in mind that the ballot did not just contain three suspect candidates in Clemens, Bonds and Sosa. Mike Piazza also debuted on the ballot and had steroid talk around him. So did Jeff Bagwell, who was on his third year of the ballot at the time. Both would eventually get inducted but later than they should have. The 2013 ballot also had Rafael Palmeiro who was caught taking PEDs and he barely hung on with 8.8% but he would fail to make the required 5% in 2014. Mark McGwire who was an admitted user was on his seventh year and he did not even hit the 20% mark. This is a lot of people who turned off Hall of Fame voters. Keep in mind that in 2013 the Baseball Hall of Fame voted in NOBODY, though they would later elect Piazza, Bagwell, Craig Biggio, Tim Raines and Edgar Martinez on that ballot. Jack Morris, Lee Smith and Alan Trammell who were also on the ballot would be chosen via the Veteran's Committee.
The other factor that worked against Lofton was that this was a very crowded ballot. Beyond the names already mentioned, Curt Schilling, Fred McGriff, Larry Walker, Dale Murphy, Don Mattingly and Bernie Williams were eligible for voting. As a voter can only select ten players, it is possible that even had there been no voter backlash it is possible that Lofton might not have gotten past the first year of eligibility.
This is not to say that Lofton is not a Hall of Famer, just the victim of a crowded ballot and as he stated a backlash against the era in which he played. Statistically he has a career bWAR of 68.3, a very good number that aligns with another members of Cooperstown, though his JAWS is slightly lower (55.9) than the average Hall of Fame Centerfielder (57.8). Still, this is higher than Hall of Famers such as Andre Dawson and Kirby Puckett. His traditional numbers of 2,428 Hits with a .299 Batting Average also fits into the Baseball Hall of Fame.
The negative surrounding Lofton is that some perceive him as a bit of s baseball nomad. Lofton is most associated with Cleveland where he played parts of 10 of his 17 seasons, but he also had stints with Pittsburgh, San Francisco, Philadelphia, Atlanta, Texas, Los Angeles, the Chicago Cubs, New York Yankees, Houston and the Chicago White Sox. That type of activity can rightfully or wrongfully decrease a perceived value.
While Lofton is not in the Hall of Fame now, he could potentially get inducted in the future. Other players have been on one and done on the ballot and would be nominated by the Veteran's Committee.
Going forward, Lofton raised an interesting that question that all who are looking at the Baseball Hall of Fame futures are wondering about…Alex Rodriguez. A-Rod is at the level of a Bonds and Clemens but Rodriguez remains in the public eye both in terms of baseball in regards to work as an analyst with Fox and in entertainment as he is currently in a relationship with pop mogul, Jennifer Lopez. If you were Kenny Lofton, wouldn't it look to you as though Rodriguez was "forgiven"?
As for us, we here at Notinhalloffame.com have discussed the merits of Kenny Lofton on multiple occasions and our latest ranking places him #44.