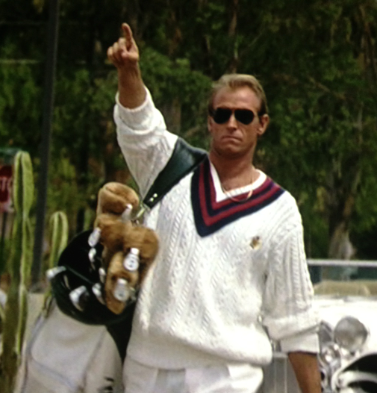 When the first Major League came out in 1989, Corbin Bernsen was one of the top television stars in the United States. His portrayal of the slimy, yet affable Arnie Becker on L.A. Law made him a star. With magazine covers and Emmy nominations, what is the next step for every television star of that level? Why a stab at feature films of course!
With a high billing, Bernsen was cast as the team's lone super star, Roger Dorn, whose unlikable character was only concerned with preserving his worth for another large contract; basically shown by his lack of hustle for fielding ground balls. So just were the highlights for Roger Dorn?
Watching his Manager, Lou Brown take a piss on his contract.
Letting Cerano (a rookie) take his golf club cozies for a "hat for bat"
Finding out his wife slept with the other rookie (Ricky Vaughn) who he antagonized in Spring Training.
It wasn't all bad, as his single led off the rally for Cerano to tie the game in the 7th against the Yankees, but who remembers that?
When Major League 2 came out, L.A. Law was pretty much over, as was what was left of Corbin Bernsen's hairline. Roger Dorn bought the Indians (foreshadowing the ability of players to actually buy into franchises only a few years later), though he would wind up back on the team in a bungling role (where his highlight was leaning into a pitch to get the walk). Actually, Dorn's fall from the Baseball pecking order mirrored Bernsen's fall from the primetime television. Somehow Dorn's character became the owner for the Minnesota Twins in the third Major League film, but for the life of us, we can't remember how that happened in the plot. Although, weren't the Twins legitimately looked at for contraction a few years later? Perhaps it was due to the fine management of Roger Dorn.
The Bullet Points:
Movies Appeared:
Major League (1989)
Major League II (1994)
Major League: Back to the Minors (1998)
Actor:
Corbin Bernsen
Position Portrayed:
Third Base/Owner
Played for:
Cleveland Indians
Why you

should

vote for him:
In his defense, playing third isn't easy.
Why you

should not

vote for him:
Remember his wife cheated on him. Athletes are supposed to cheat on their wives (which did happen in the movie) but for the opposite to happen? Unacceptable!
{youtube}
puq452c1l_8{/youtube}
{youtube}
4ccUDrB_8jQ{/youtube}
{youtube}
L9XkWdi45VM{/youtube}