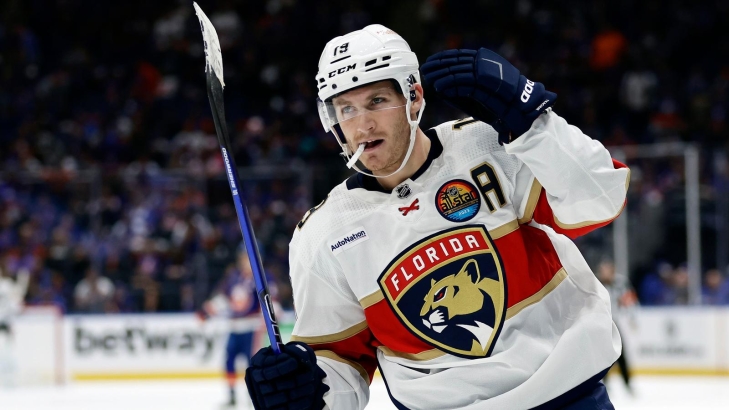 If you are a regular visitor at Notinhalloffame.com, you know that we created the Notinhalloffame NHL Cup, where in every regular season game, we award points (5-4-3-2-1) to the top five performers. This is the second year that we have done this, and Edmonton's Connor McDavid won the first one.
To keep everyone regularly in the loop this time, we have decided to give regular updates, starting at when the first player cracked 40 Points, and tell all of you the top ten. We will this going forward with every update as the first player breaches the elevated ten-point threshold afterward.
Here is the current top ten, based on the first player to breach 90 Notinhalloffame Cup Points:
1. Connor McDavid, Edmonton Oilers. 90 Cup Points: 47 Games, 39 G, 47 A, 86 P, +2, 9.9 PS. (#1 on last update)
There are a lot of stories at the near-halfway mark of the 2022/23 NHL Season, with one of the top ones being Connor McDavid running away with every major statistical category. Last year's Notinhalloffame NHL Cup winner is extending his lead and he is currently the league-leader in Goals (39), Assists (47), Points (86) and Point Shares (9.9).
2. David Pastrnak, Boston Bruins. 79 Cup Points: 45 Games, 35 G, 28 A, 63 P, +25, 8.7 PS. (#2 on last update)
The Bruins are one of the NHL's top teams and Pastrnak is their top scorer. The Bruins star is averaging 1.40 Points per Game, slightly more than his First Team All-Star campaign in 2019-20. He currently is leading the NHL in Shots (217).
3 (Tie). Mikko Rantanen, Colorado Avalanche. 75 Cup Points: 43 Games, 31 G, 25 A, 56 P, +9, 7.0 PS. (#3 on last update)
Rantanen remains at #3, and is also in the top ten in Goals and Points, while leading the NHL in Even Strength Goals (26). The Avs star has 1.28 PPG, the highest of his career.
3 (Tie). Brayden Point, Tampa Bay Lightning. 75 Cup Points: 44 Games, 27 G, 22 A, 49 P, +7, 5.9 PS. (#6 on last update)
Point is having a good year, and is a point-per-game player, there are still quite a few players with higher point tallies than the Tampa Center. Saying that, Point has been the most clutch player for the Lightning, and a reason we love this process!
5. Jason Robertson, Dallas Stars. 71 Cup Points: 47 Games, 31 G, 32 A, 63 P, +29, 8.8 PS. (#4 on last update)
Robertson is on pace to shatter last season's 41-38-79 output, and the fourth-year player is now the undeniable top dog of the Stars lineup.
6. Jack Hughes, New Jersey Devils. 70 Cup Points, 45 Games, 29 G, 27 A, 56 P, +14, 7.1 PS. (#5 on last update)
Hughes explodes back into the top ten, ranked higher in Cup Point standings than he has ever been. He is already tied with Points total (56) from last season.
7. Auston Matthews, Toronto Maple Leafs. 68 Cup Points: 44 Games, 24 G, 27 A, 51 P, +20, 6.2 PS. (#7 on last update)
Matthews is the defending Hart winner but he is not on the PPG pace he was last year, though when Toronto wins, the odds are that he was the biggest reason why. Is this season a disappointment so far for Matthews?
8. Leon Draisaitl, Edmonton Oilers, 66 Cup Points: 45 Games, 27 G, 45 A, 72 P, +4, 7.7 PS. (Not on last update)
The 2020 Hart Trophy winner returns to the top ten and gives the Oilers two players in the upper-tier.
9. Matthew Tkachuk, Florida Panthers, 63 Cup Points: 44 Games, 24 G, 34 A, 58 P, +9, 6.5 PS. (not on last update)
Matthew's brother, Brady was once in the top ten, but this his first time here this season.
10 (Tie). Jake Oettinger, Dallas Stars. 62 Cup Points: 34 Games, 20-7-4, 2.26 GAA, .924 Save Percentage, 7.3 PS. (not on last update)
In his third season, Oettinger is playing the best hockey of his life.
10 (Tie). Connor Hellebuyck, Winnipeg Jets. 62 Cup Points: 35 Games, 22-12-1, 2.43 GAA, .923 Save Percentage, 8.1 PS. (not on last update)
A former Vezina winner, Hellebuyck is a contender for that trophy this year.
Minnesota's Kirill Kaprisov, Boston's Linus Ullmark, Pittsburgh's Sdney Crosby and Washington's Alex Ovechkin fell off the top ten.
Our next update will occur when the first player breaks 100 Cup Points.