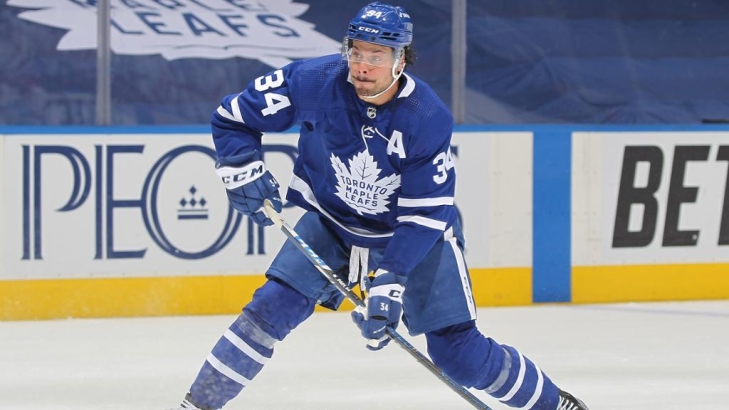 If you are a regular visitor at Notinhalloffame.com, you know that we created the Notinhalloffame NHL Cup, where in every regular season game, we award points (5-4-3-2-1) to the top five performers. This is the second year that we have done this, and Edmonton's Connor McDavid won the first one.
To keep everyone regularly in the loop this time, we have decided to give regular updates, starting at when the first player cracked 40 Points, and tell all of you the top ten. We will this going forward with every update as the first player breaches the elevated ten-point threshold afterward.
Here is the current top ten, based on the first player to breach 40 Notinhalloffame Cup Points:
1. Auston Matthews, Edmonton Oilers 43 Points: 24 Games, 11 G, 15 A, 26 P, +7, 2.9 PS.
Matthews is the defending Hart winner but he is not on the PPG pace he was last year. Still, he is Toronto's best player and is leading the standings here, showing that he has not had to share Cup Points with his teammates as much as the player below.
2. Connor McDavid, Edmonton Oilers, 42 Points: 22 Games, 17 G, 22 A, 39 P, +2, 4.4 PS.
Last year's winner is chasing last year's runner-up, with McDavid currently topping the NHL in Points (39) and Power Play Goals (9). If he wins the Art Ross this year, it will be his fifth.
3 (Tie). David Pastrnak, Boston Bruins, 37 Points: 21 Games, 14 G, 18 A, 32 P, +10, 4.0 PS.
The Bruins are the NHL's top team and Pastrnak is their top scorer. He is currently fifth in Points.
3 (Tie). Jason Robertson, Dallas Stars, 37 Points: 23 Games, 19 G, 17 A, 37 P, +13, 5.1 PS.
Robertson is the current leader in Goals (19), Even Strength Goals (15), and is on pace to shatter last season's 41-38-79 output.
5 (Tie). Nick Suzuki, Montreal Canadiens, 36 Points, 23 Points: 23 Games, 12 G, 12 A, 24 P, +3, 3.0 PS.
Although Suzuki is Montreal's leading scorer, he is not in the top ten in any offensive statistic, but when the Habs win, chances are that Suzuki was the main reason.
5 (Tie). Brady Tkachuk, Ottawa Senators, 36 Points: 21 Games, 9 G, 16 A, 25 P, -7, 2.4 PS.
Ottawa has been abysmal this year, but Tkachuk had taken his game to the next level and should finish the year with his best numbers by far.
7 (Tie). Linus Ullmark, Boston Bruins, 35 Points: 16 Games, 13-1-0, 2.00 GAA, .935 Save Percentage, 3.9 PS.
Ullmark is the highest ranked Goalie, and he is the second Bruin in the top ten. His ascendence to likely All-Star has been colossal for Boston's rise to the top of the standings.
7 (Tie). Kirill Kaprizov, Minnesota Wild, 35 Points: 21 Games, 13 G, 14 A, 27 P, -6, 3.0 PS.
Kaprizov is easily Minnesota's best player and if he stays healthy should have his second straight 100-Point year.
7 (Tie). Jack Hughes, New Jersey Devils, 35 Points: 23 Games, 12 G, 14 A, 26 P, +10, 3.3 PS.
The Devils are surpassing everyone's expectations with Hughes leading the way. The 21-year-old Center will likely be named an All-Star this year.
7 (Tie). Erik Karlsson, San Jose Sharks, 35 Points: 24 Games, 11 G, 21 A, 32 P, -2, 4.7 PS.
Karlsson is the highest ranked Defenseman, and is currently the highest scoring blueliner in the NHL.