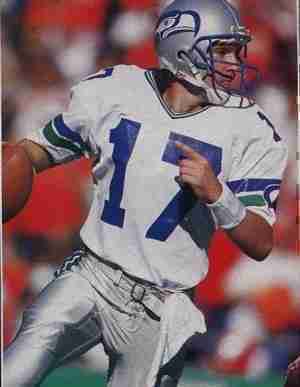 Although we imagine that
Dave Krieg
dreamed of throwing footballs in the NFL, it had to seem a million miles away when he was the backup Quarter back at the now defunct Milton College. Amazingly, he not only made the professional ranks, he was there for seventeen years.
For the bulk of his career, Dave Krieg was the starting Quarterback with the Seattle Seahawks. He annually posted good numbers at the position and was a big part of what success Seattle did have. Three times, he was named to the Pro Bowl, and he is in the top fifteen all time in many throwing categories. A lot of his all time rankings are attributed to being good for such a long period of time, however at no point in Krieg's career was he ever a dominant QB. Basically, for a ten year span, Dave Krieg was basically the tenth best in the league. Sure, he was thought of as good, but without that "great" label, it is hard to put him in the Hall despite his impressive career numbers.
Should Dave Kreig be in the Hall of Fame?
Definitely put him in! - 54.3%
Maybe, but others deserve it first. - 12.4%
Probably not, but it wouldn't be the end of the world. - 20%