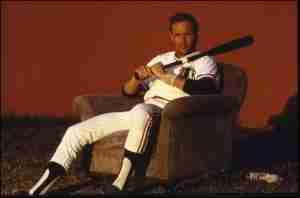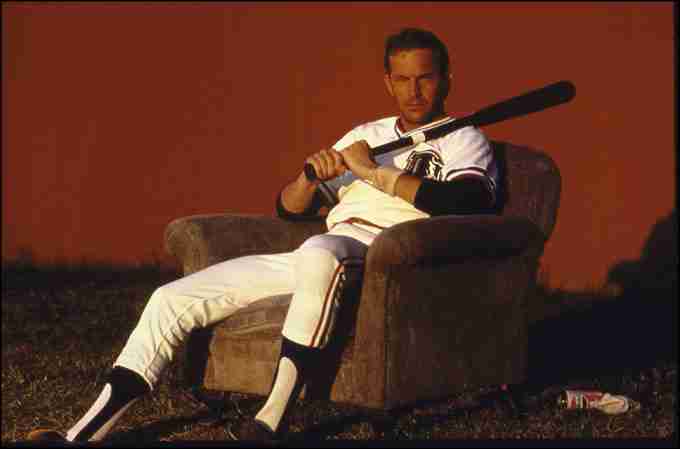 Class of 2014 Inductee: Crash Davis
Bull Durham (1988)
Durham Bulls Catcher
Let's all agree that Kevin Costner is a God for this type of Hall of Fame. If we are all in unison on that, than it stands to reason that his greatest athletic (and maybe greatest period) character, Crash Davis deserves to enter the Fictitious Athlete Hall of Fame on the first full ballot.
Arriving to Durham, North Carolina as "the player to be named later" Crash Davis arrives to his latest minor league team, charged with the task of mentoring a dimwitted young flamethrower.
Davis may be one of the most cerebral players in the minors, a mind you watch not only mentor the team but the older coach, struggling to get his team in gear. By proxy, we not only have one of the greatest baseball characters but a manager in the dugout.
Crash, a veteran of the "show" for twenty-one days makes the most of the talent he does have and though he never really had the overall physical skills to be Johnny Bench, he did carve out the distinction of being the all time record holder of Minor League Home Runs, a title he didn't want, but impressive nevertheless.
At the end of what many of called the best sports film of all time, Crash gets his woman, the sultry and equally intelligent Annie Savoy (Susan Sarandon) and it is implied that he would embark into a career as a Manager, and damned if we didn't see him becoming as successful as so many other Catchers turned Managers.
Score one for minor league baseball, respecting streaks and long, slow, soft, deep wet kisses that last three days.
Oh my!