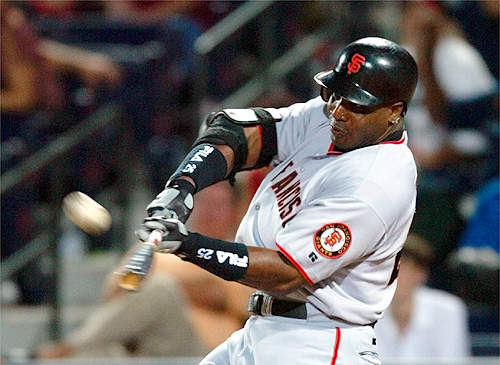 Barry Bonds has re-emerged in the world of Baseball, as he again donned a San Francisco Giants uniform as an Instructor in Spring Training. Whether or not, this ushers in a full time return to the sport is up in the air, but considering how many tainted figures have returned to Baseball after the taint of PEDs (McGwire, Giambi, Pettitte), there is certainly enough room for Barry Bonds; especially one who seems "nicer".
As expected, Bonds was met with reporters and actually seemed to enjoy the interaction. He showed vulnerability, by expressing his nerves at his new position; a component of the Major League Baseball Home Run King that we have never seen before, though we knew he was going to be asked a serious question that Baseball pundits (despite what some of them may write) will never tire of.
Bonds was asked if he thought he should be in the Baseball Hall of Fame and showing a bit of that swagger that we expected to hear:
"Without a Doubt."
We are not going to go in to the details of why he should or why he shouldn't enter Cooperstown. You already know the sides to this argument, and if you are a regular visitor to Notinhalloffame.com know our opinion on the matter.
We will say that we are happy to see Barry Bonds back in the game, and are very interested to see what the future has in store for him.