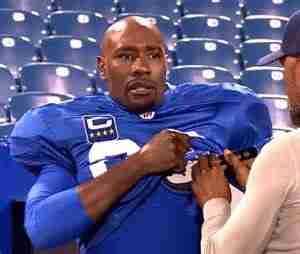 We have to say this about Morris Chestnut: we have no problem believing completely that he was a star Running Back, which puts him already ahead of several other fictitious football players. In "The Best Man" we learn that his character, Lance Sullivan was a star Running Back in College and in the sequel made fourteen years later, we saw him break the Rushing record as a professional with the New York Giants. On the surface it seems like a certain surefire contender right? Not exactly.
In the first film we never saw him play, and when he broke the Rushing record in the sequel it was more of a tribute to his dying wife. Basically, the fact that he was a star Running Back, could have easily been transformed into star musician, or just a generic player so to speak.
The Bullet Points:
Movies Appeared:
The Best Man (1999)
The Best Man Holiday (2013)
Actor:
Morris Chestnut
Position Played:
Running Back
Played for:
The New York Giants
Why You Should Vote For Him:
He did break the NFL Rushing Record after all
Why You Should Not Vote For Him:
Football is so far down on the list of the themes in this pair of films.
{youtube}
SicQgdN-tZo{/youtube}