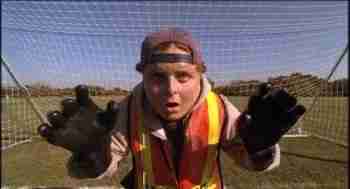 This was typical Disney fare for a sports film, so recounting here seems a little redundant. Let's just say that when half way decent line occurred, it was given to the goofy looking fat kid; as tends to happen in mediocre films with copious amounts of children.
The Bullet Points:
Movie Appeared:
The Big Green (1995)
Actor:
Patrick Renna
Position Portrayed:
Goalie
Played for:
Elma, TX
Why you

should

vote for him:
Have you seen this kid? Give him a break!
Why you

should not

vote for him:
Steve Guttenberg (a post Police Academy version) had the top billing here. Enough said.
{youtube}
4Svwew2HwuY
{/youtube}
{youtube}
C19heV7758U
{/youtube}