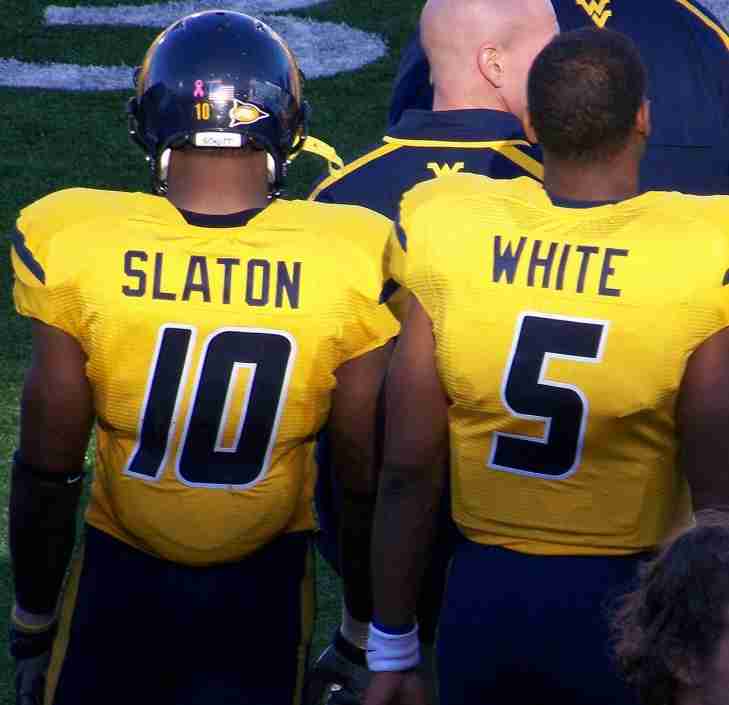 At Notinhalloffame.com we are interested in how the major universities induct in their athletic Halls of Fame. As such it is news to us that the 28th class of West Virginia University has been announced.
Here are the 11 members of the Class of 2018:
Kate Bulger, Women's Basketball 1981-84: The sister of former Mountaineers Quarterback Marc Bulger. Kate averaged 15.1 Points per Game for WVU and she never missed a game. Her 1,732 Points is sixth all-time in university history. She is also first in Mountaineer history in Three Point Field Goals Made.
Jon Capon, Men's Soccer 1978-81: Capon was the team's goalkeeper and he compiled 28 Shutouts with a 1.17 Goals Against Average over his career at WVU. He was the team captain for three years.
Avon Cobourne, Football 1999-2002: Cobourne is the only Mountaineer to rush for four 1,000 Yard Seasons and holds the University records in Rushing Yards in a career (5,164) and in a season (1,710) and is a two time First Team Big East Selection. He would go on to have a career in the Canadian Football League and was an All Star in 2009.
Mike Gansey, Men's Basketball 2004-06: Gansey started all 68 Games of his WVU career, which in those two seasons would see the team go to the Elite Eight and Sweet Sixteen respectively. He would be named First Team Big East and averaged 14.4 Points per Game as a Mountaineer. In his senior year Gansey was a Finalist for the Oscar Robertson Award, John R. Wooden Award and Naismith Trophy.
Tom Keane, Football 1946-47: Keane had already been a letterman in Football at Ohio State where he helped them go undefeated in 1944. He would serve in the Navy and return to the United States where he would enroll at West Virginia and play for the Mountaineers for two years. He would later play eight years in the NFL where he was a Champion with the Los Angeles Rams in 1951 and was a Pro Bowl Selection in 1953 when he was playing with the Baltimore Colts. He would also win two Super Bowl rings with the Miami Dolphins as their Defensive Backs Coach.
Larry Krutko, Football 1955-57: Krutko played Fullback and Linebacker in his three years at WVU and he would also assist the Mountaineers win two Southern Conference Titles. He would play three seasons in the National Football League with the Pittsburgh Steelers.
Eleanor Lamb, Administration 1958-2013: Lamb worked her way from Secretary to Assistant Athletic Director over her 55 year career.
Bev Plocki, Women's Gymnastics 1985-87: Plocki competed for three years leading WVU to three appearances in the NCAA Regional Championship while compiling a 23 win season in 1985. Plocki would achieve much greater success as the head coach of the University of Michigan women's gymnastics team where in 29 years she has won 23 Big Ten Titles.
Steve Slaton, Football 2005-07: Slaton was West Virginia's primary Running Back for three years and he would eclipse 1,000 Rushing Yards in all of them. His sophomore season was by far his best, as he would rush for 1,744 Yards, which was third overall in the nation. He would finish fourth in Heisman Trophy voting that year. More notably to Mountaineers fans, Slaton would help West Virginia win the Sugar Bowl ('06) where he was named the game's MVP. He would play in the NFL for five years.
Pat White, Football 2005-08: White made Mountaineer football history as he became the first college Quarterback to start and win four straight bowl games (2006 Sugar, 2007 Gator, 2008 Fiesta and 2008 Meineke Car Care). White threw for over 10,000 Yards and would rush for 4,480, which at the time was the most for any college Quarterback. He was a three time First Team All Big East Selection (2006-08).
Web Wright, Shooting 1985-89: Wright was a seven time All-American and was a two time National Champion. He would represent the U.S. at the 1988 Seoul Olympics.
We here at Notinhalloffame.com would like to congratulate the 28th Class of the West Virginia Athletic Hall of Fame.