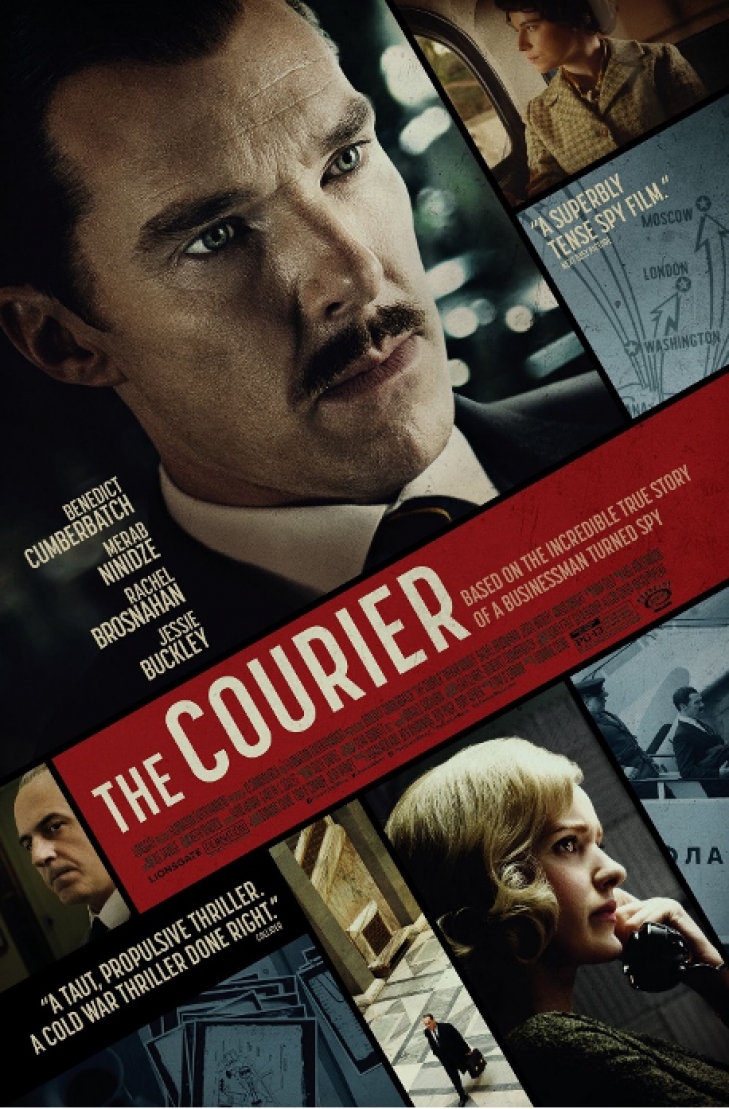 Cast:
Benedict Cumberbatch Greville Wynne
Merab Ninidze Oleg Penkovsky
Rachel Brosnahan Emily Donovan
Angus Wright Dickie Franks
The weekend arrived and as we had nothing on our social calendar we went back to our lists on Netflix and Amazon, not to mention my ever dwindling stack of unwatched blu-rays. For this weekend, we tried to theme it a little and only select movies based on actual events. Our first film, "Bombshell" starring Nicole Kidman, Margot Robbie, Charlize Theron and John Lithgow was a fantastic film that focused on the controversy at FOX when Megyn Kelly (Theron) and Gretchen Carlson (Kidman) were basically thrown under the bus when they came forward with harassment allegations against Roger Ailes (Lithgow). This was a great film that highlighted some key events in the entertainment industry and brought to light the abuse that some television executives put onto their female employees. While this was a great film, with some stellar performances, it was not the film that I chose to review for this edition of "Was I entertained".
I decided to write on another film based on actual events that was more along my style of films and literary pursuits. This was "The Courier" starring Benedict Cumberbatch, and Rachel Brosnahan. This film tells the story of Greville Wynne (Cumberbatch) who was used by MI6 and the CIA to relay messages to and from Lt. Colonel Oleg Penkovsky (Ninidze) of the GRU in Russia. This exchange of messages via the unorthodox relay of using an innocent British salesman was apparently instrumental during the early days of the Cold War, and most particularly during the Cuban Missile Crisis. Trying not to give away too much of the story (mind you, you can look it up anyways), Oleg Penkovsky, a Lt. Colonel in the GRU (which was the intelligence arm of the of the Soviet military, and was responsible for many operations overseas) comes across intelligence on what Russia was planning to do in Cuba. Sneaking a letter out via some visiting Americans, he advises them to bring the document to the embassy and tell them (the US) that he has information to provide in exchange for sanctuary in the United States.
At the time, the CIA had a minimal presence in the USSR, so in order to take advantage of this new source of intel, they approach MI6 in England to garner assistance to run this potential source. I will have to say a manager in MI6 (his position is not really given), Dickie Franks (Wright) meets with his CIA counterpart, Emily Donovan (Brosnahan) to formulate a plan. Apparently Franks (Wright) had a friend who was a salesman for some kind of company that travelled regularly to Eastern Europe and would be the perfect conduit as a courier for all concerned. Wynne (Cumberbatch) was approached by Donovan (Brosnahan) and Franks (Wright) and was subsequently convinced to be a cog in this vital intelligence gathering scheme.
So the film progresses with the Russian GRU Lt. Colonel Oleg Penkovsky (Ninidz) and Greville Wynne (Cumberbatch) developing a friendship that grew with the amount of intelligence that was passed to the west. We discover that this information becomes vital for the western response to the Cuban Missile crisis and the western intelligence services writ large. Naturally, as very few spies are ever totally successful, Penkovsky and Wynne both get captured by the KGB and are held for questioning and in some cases torture, or should we say some aggressive questioning.
This is the story in a nutshell without giving out too many nuggets from the film, as I really recommend that you watch it. I found the cinematography to be very good, the acting from very strong too excellent, and the details from the time period to be far above average. I also enjoyed the use of historical footage of the era intertwined with the film to be extremely well done. The direction and script was also very well done.
After the film, I did some quick research into the characters (you know with the all the COVID lockdowns, we are all google professors now). What I found extremely interesting was the fact that the writer pieced the story together from various sources, as the books later written by the real Wynne tended to have exaggerations and potential un-truths. So saying that, we know that the film had some artistic liberties around it, but enough truth buried within to keep it interesting. Additionally, it seems that there was no character of Emily Donovan during this incident, and that the character was a fabrication. I actually thought so while watching it, as I was unsure that a "woman" during that time period would be given such responsibilities or latitude within the CIA. (Believe me, I am not saying that women did not deserve to be high positions, just from my understanding it was not the norm in the 60s). I actually thought that the character was changed from a man to a woman to provide some "political correctness" to the film. However, as a fabricated character, I found the input to the story line to be intrinsic to the plot. I also found out that Dickie Franks actually ended up being the director of MI6 later on in his career, just another interesting factoid that I discovered.
So, what did I like about the film? I have pretty much captured it above, everything from the character development, plotline, direction and the period that it was capturing. It all appealed to what I like in a film or story. As I have stated in numerous reviews, I also enjoy when the film is based on factual events, as these films are far more interesting than some of the slasher or special effects movies that are the norm these days. The chemistry between all the characters was evident as was the emotional outbursts or scenes portrayed by all the key characters. I did find the stereotypical British "stiff up lip" mentality amusing as well, that mentality while stereotyped, reminds me of several British officers that I had met over the years. I even enjoyed the Russian dialogue in the film. Having taken Russian some 30 odd years ago, it was enjoyable to try and pick out what was being said without reading the sub-titles. There were several actors that were quite easy to understand, which provided further enjoyment to the film.
Was there anything I did not like? Actually no, the whole film was enjoyable to watch from start to finish. So with that portion of the review closed, let us touch on the key cast members:
Benedict Cumberbatch as Greville Wynne: First off, I must say that I am a great fan of Cumberbatch, especially since I watched him in the BBC series of Sherlock! He is an extremely talented actor who can manage to pull of any role, be it Sherlock Holmes, Khan, Doctor Strange or a Colonel in WWI. His portrayal of Wynne was very believable, sure, there may be some doubts if it was an accurate representation of the real individual as indicated in some articles I read, but for the purposes of the film, I bought it. Also, I found the chemistry that was displayed between the other main characters to extremely evident, especially with Ninidze (Penkovsky) and his wife Sheila (played by Jessie Buckley). All in all another great performance by Cumberbatch!
Merab Ninidze as Oleg Penkovsky: This was the first time that I had seen Ninidze in any production, though from what I found on IMDB I see he has been on Homeland, however on a season that I have yet to watch. Overall, I was very pleased with his portrayal of the GRU Lt Colonel. He demonstrated concern for the state of his nation and its goals, fear was prevalent for his family as well as his dreams to one day be a cowboy in Montana. To me, his role was very believable and I really look forward to seeing him in other films or projects in the future.
Rachel Brosnahan as Emily Donovan: My wife and I first noticed Brosnahan in the Amazon show; The Marvelous Mrs. Maisel. In that show we found her funny, talented and a real joy to watch. It was not till afterwards that we found that she was in numerous programs and movies that we had watched in the past, i.e. Patriots Day, Manhattan, House of Cards, Blacklist, and The Finest Hours to name but a few. In hindsight, after we became fans of Mrs. Maisel, I looked at some of her previous roles and really came to appreciate her talent. In this film, while really playing in a supporting role and a fabricated character at that, I found that she did well. Not as well as say her performance in Mrs. Maisel, but well enough to really contribute to the story. I also enjoyed the fact that while her character was instrumental in putting Wynne in harm's way, she was also willing to put herself there to help him when in trouble. I enjoyed this character and performance overall, and even if a fabricated person in a historical tale, her role was intrinsic to the plot as a whole.
Angus Wright as Dickie Franks: As I mentioned previously, Wright played Franks extremely well and came across as the stereotype that I had not only observed on the screen before, but also representative of some of the British officers that I had met during my career. He was believable and his chemistry with the other cast members was admirable. Even though his face was familiar to me, it was surprising on how many shows I had seen him in before. Regardless, I thought his acting and character that he embodied was spot on for the movie and period that was being presented. As with Brosnahan's character, his role was intrinsic to the story and continuity. I did like the fact that this character in real life did end up being the head of MI6, kind of made me wonder if this small bit of activity in the 60's was a key jumping point for him to attain greater things.
As you can see by my comments, my wife and I were thoroughly entertained by this film. It had great a great cast, direction, script and continuity. As I have mentioned many times, it was based on real life events which always adds to the appeal of any film or television program. The chemistry between the cast was quite visible throughout, especially the main characters. All facets combined, made this film a truly enjoyable experience. I would recommend this film to anyone who is interested in real events, espionage, or is a fan of Cumberbatch. So if you are interested in this film, que up your Amazon account and give it a ride. I have no doubt that you will enjoy it as much as we did.
Rating: 7/10
If you are interested in other programs starring the main cast, please consider the following recommendations:
Benedict Cumberbatch 1917, Avengers: Endgame, Avengers: Infinity War, Sherlock, Doctor Strange, The Hollow Crown, The Imitation Game, The Fifth Estate, 12 Years a Slave, Star Trek Into Darkness
Merab Ninidze Homeland, Bridge of Spies
Rachel Brosnahan The Marvelous Mrs. Maisel, Patriots Day, The Finest Hours, Manhattan
Angus Wright The Crown, Kingdom of Heaven, Charlotte Gray
Till Next Time!