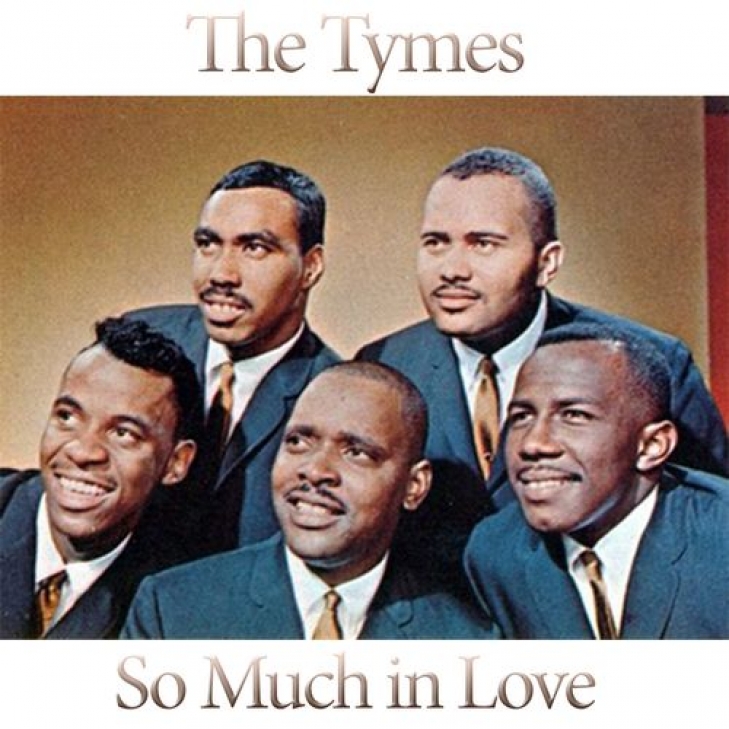 August 3 – August 9, 1963
The Tymes
So Much in Love
There is so much I need to apologize for as I write this anthology.
No, I don't mean at times where you might be offended by comments I make throughout. If you got this far, then I expect that you know what you are getting into.
What I am referring to here is that when I am writing about this next song, I feel like I "have been, done that" with so many thoughts that are populating my synapses for this song. The reason why I think that is obvious. It is because I am repeating some tropes that I have used before, and some more that I will use many more times moving forward.
The first, is repeating the lens in which I view music. I was born in 1972 and was raised in Canada, and this reflects every aspect on how I see pop culture. I know that I have referenced Fast Times at Ridgemont High before, and I am going to do so again.[1] While I know I would have been nine years old when they film came out, its life on video cassette and cable reruns spoke to me, and I probably have seen this film fifty times.[2] It spoke to me as a pre-teen, a teen, a twenty-something, a thirty-something and now as a middle-aged man.
Why do I bring this up?
Because, the first time I heard the song in question was a cover in Fast Times by former and future Eagles member, Timothy B. Schmidt.
Seriously, just listen to that soundtrack and ask yourself if the whole thing does not have the Eagles all over it!
But as always, I digress.
I would learn later that Schmidt's version was a cover of the Tymes #1 hit from 1963. So now that we got that out of the way, let's get to who the Tymes were.
Formed in 1956 in Philadelphia, the Tymes were originally called the Latineers, and were comprised of Donald Banks, Albert Berry, Norman Burnett and George Hilliard. The quartet didn't do much beyond playing clubs in Philly for four years and they would add George Williams in 1960, to front the group, thus making them a quintet. A name change to the Tymes occurred, and they continued along, and would compete in a talent show sponsored by a local radio station. That would lead to a local label, Cameo-Parkway signing them to a contract.
Williams penned "So Much In Love", that would be reworked by Roy Stragis and their producer, Billy Jackson. It was in the doo-wop form, was easy to hum along to, and was one of the sweetest sounding tunes of its day.
Like many groups in their day, and for that matter every "day" in music history, the first charting song for the Tymes was their biggest hit.[3] They had a second top-ten hit in 1963 with "Wonderful Wonderful" and their third song, "Somewhere", would go to #19. As far as solid chart success, this was it for the Tymes. Sort of.
As with many doo-wop groups, the Tymes were rendered obsolete by the British Invasion.[4] This didn't mean that they disbanded, as they would continue to record, though would embrace a more soulful sound. This wasn't doom and gloom for the Tymes as they were still able to tour and make a living throughout the rest of the 60s and early 70s, but a comeback for them was on the horizon, though not in the United States.
In 1974, the Tymes released a single called "Ms Grace" that only went to #91 in the United States and only #75 on the R&B Chart. For whatever reason, this slow and soulful song would catch on in the United Kingdom and it went #1 in that musically influential nation.[5] It gave them a new lease on life, and another place to tour as long as some incarnation of their group existed. This leads me to my final trope.
When you are an African-American group without charismatic (memorable) members, you can be interchangeable. This would lead in the latter days to the band having members perform for them in concerts who were not there during their heyday, with many an audience member oblivious to that fact. They would splinter and multiple versions would actually perform in the oldies circuit, but this was not exactly uncommon, hence why I called it a trope.
That's it for this one. I am sure we will replicate this series of tropes again,
And many others.
Other Notable Songs that charted but did not go to number one in this time period: August 3, 1963 – August 9, 1963.
8/3/63: Surfer Girl by The Beach Boys went to #7 and reached #18 on the R&B Chart.
8/3/63: Detroit City by Bobby Bare reached #16 but climbed to #6 on the Country & Western Chart and to #4 on the Adult Contemporary Chart.
8/3/63: Six Days n the Road by Dave Dudley went to #32 but went to #2 on the Country & Western Chart.
[1] I am sure I will do so again, and again.
[2] I have seen the Phoebe Cates pool scene 200 times.
[3] Here is that second trope.
[4] Here is another trope.
[5] At some point, this makes me want to repeat this entire process for #1s in the U.K.