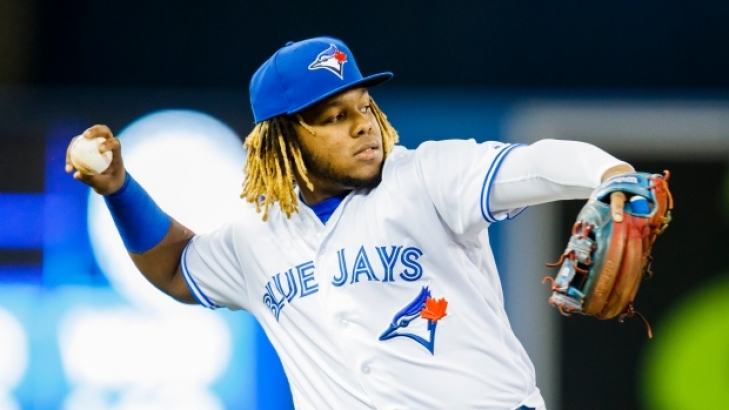 The process continues.
We here are Notinhalloffame.com have plans to create our own set of post-season awards, which we will look back and retroactively present from 1901 on. That will take a while, but it has never stopped us before!
Our awards are not be league specific.
Now it is time for our 2021 positional awards.
We will be awarding a positional player of the year, but not only that, offer up the runner-up and second runner-up, meaning that we will have First, Second and Third All-MLB players.
Let's work our way around the diamond and award the best of the best in Baseball!
*Please note that to qualify, a player must appear in that position at least 50% of the time.


First Team All-MLB: First Baseman of the Year: Vladimir Guerrero Jr., Toronto Blue Jays. 6.8 bWAR, 6.7 fWAR, 188 H, 48 HR, 123 R, 111 RBI, 4 SB, .311/.401/.601/1.002.
Guerrero lost weight entering the 2021 season, and the dedication to fitness yielded the best year of his young career. Sharing the Home Run Title with Salvador Perez, Guerrero also led the AL in OBP, SLG, OPS, OPS+ (169) and Total Bases (363), and was the most explosive offensive player in 2021. Had it not been for Shohei Ohtani, he would have won our MVP.
Second Team All-MLB First Base: Paul Goldschmidt, St. Louis Cardinals. 6.2 bWAR, 4.9 fWAR, 177 H, 31 HR, 102 R, 99 RBI, 12 SB, .294/.365/.514/.879.
This is Goldschmidt's third year in St. Louis, and eleven over all. Goldschmidt accrued his sixth 30-plus HR year and sixth .500 Slugging season.
Third Team All-MLB First Base: Matt Olson, Oakland Athletics. 5.8 bWAR, 5.0 fWAR, 153 H, 39 HR, 101 R, 111 RBI, 4 SB, .294/.365/.514/.879.
Olson was an All-Star for the first time this year, and he posted career-bests in Runs, Home Runs, RBIs, Batting Average and On Base Percentage.

Look for more awards soon!