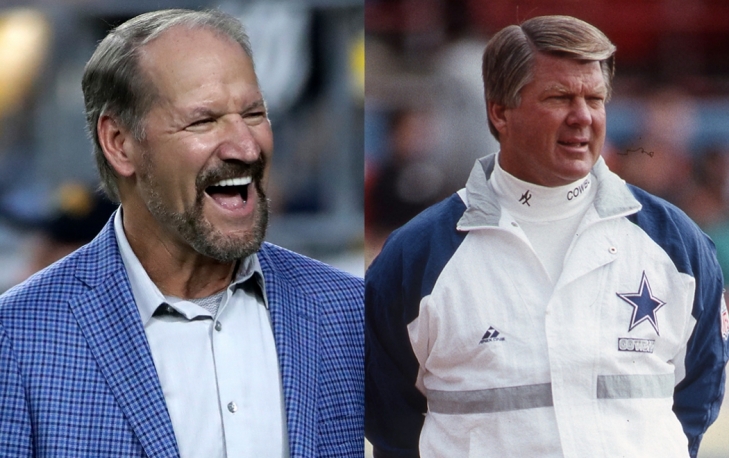 We thought we would be talking about this on Wednesday.
Breaking from tradition, Hall of Fame President, David Baker appeared on the CBS pre-game show on Saturday and announced to former Pittsburgh Steelers, Head Coach, Bill Cowher, that he had been selected by the Blue Ribbon Centennial Committee to the Pro Football Hall of Fame. Last night, during halftime of the Seahawks/Packers Game, Baker appeared again and made the same announcement to former Dallas Cowboys and Miami Dolphins Head Coach, Jimmy Johnson.
Cowher became the Head Coach of the Pittsburgh Steelers in 1992, where he would stay until 2006. He would lead Pittsburgh to a win in Super Bowl XL, and he would have a record of 149-90-1.
When Johnson was greeted by Baker it was a very emotional scene. The joy of his now fellow Hall of Famers (Terry Bradshaw, Howie Long and Tony Gonzalez) was infectious and Troy Aikman (who was calling the game) watched along. After taking the University of Miami to the NCAA Championship in 1987, he would take over the helm of the Dallas Cowboys shortly there after. He won two Super Bowls with Dallas and took them from the outhouse to the penthouse. He was also the Head Coach of the Miami Dolphins for four seasons. Johnson's Head Coaching record in the NFL was 80-64.
This is the first time that Coaches were selected in a separate committee, and it is expected that it will return back to main committee. The choices are no without controversy, as Don Coryell, who has been a Finalist six times was not chosen. Tom Flores, who has been a Finalist the last two years, was also passed over. Flores is 88, and based on online reactions, he is the biggest perceived snub.
As both Cowher and Johnson are NFL analysts on major networks, there has been some speculation that the Pro Football Hall of Fame looked to make moments as opposed to honor the two most deserving candidates. Only the people on the Blue Ribbon Committee will know if that is true. The other Finalists amongst the Coaches were Mike Holmgren, Buddy Parker, Dan Reeves and Dick Vermeil.
This Wednesday morning on Good Morning Football, the remaining 13 selections will be announced.
We here at Notinhalloffame.com would like to congratulate both Bill Cowher and Jimmy Johnson for entering the Pro Football Hall of Fame.