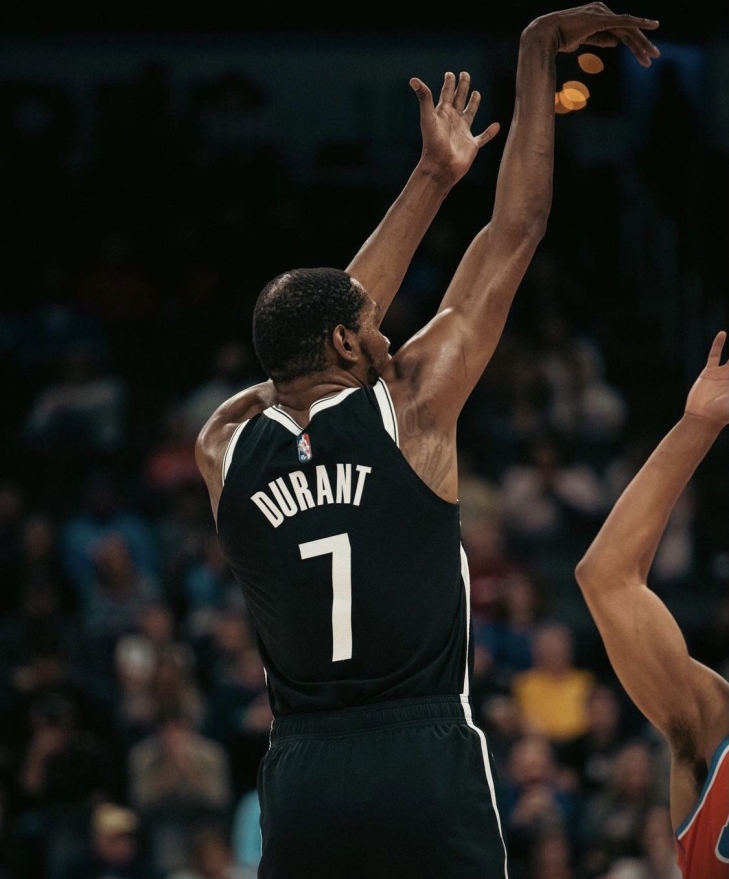 If you are a regular visitor at Notinhalloffame.com, you know that we created the Notinhalloffame NBA Cup, where in every regular season game, we award points (5-4-3-2-1) to the top five performers. This is the third year that we have done this, and Denver's Nikola Jokic won the first two.
To keep everyone regularly in the loop this time, we have decided to give regular updates, starting at when the first player cracked 80 Points, and tell all of you the top ten. We will this going forward with every update as the first player breaches the elevated ten-point threshold afterward.
Here is the current top ten, based on the first player to breach 80 Notinhalloffame Cup Points:
1. Kevin Durant, Brooklyn Nets 82 Points: 22 Games, 30.0 PPG, 6.6 RPG, 5.4 APG, 0.7 SPG, 1.8 BPG, 26.6 PER, 3.5 WS.
Durant might play for the most dysfunctional team in the NBA, but the Nets struggles cannot be pinned on KD, who has been electric this year. The last time Durant finished with 30 Points per Game was in 2013/14, and his 1.8 BPG is higher than any year-end total. As of this writing, Durant has logged the most minutes (807), sunk the most Field Goals (233) and has the most Points (660).
2. Steph Curry, Golden State Warriors 80 Points: 19 Games, 31.4 PPG, 6.8 RPG, 7.1 APG, 1.2 SPG, 0.2 BPG, 29.1 PER, 3.6 WS.
The Warriors have disappointed this year, and are clearly aging, but that is not the case for Curry, who is leading the NBA in Win Shares, Offensive Win Shares (3.0) and Three-Point Field Goals (99).
3. Luka Doncic, Dallas Mavericks 78 Points: 18 Games, 33.1 PPG, 8.7 RPG, 8.4 APG, 1.7 SPG, 0.5 BPG, 31.0 PER, 3.6 WS.
Doncic is our first-quarter MVP, and the current leader in Points per Game, and is on pace for his first 30 PER/30 PPG year.
4 (Tie). Jayson Tatum, Boston Celtics 77 Points: 20 Games, 30.8 PPG, 7.7 RPG, 4.6 APG, 0.9 SPG, 1.2 BPG, 26.6 PER, 3.3 WS.
Tatum continues to get better which should scare the hell out of anybody cheering against the Celtics. He has never finished a season averaging over 30 Points per Game, but he is currently over that now.
4 (Tie). Shai Gilgeous-Alexander, Oklahoma City Thunder 77 Points: 20 Games, 31.1 PPG, 4.9 RPG, 6.1 APG, 0.9 SPG, 1.2 BPG, 27.6 PER, 3.32 WS.
Gilgeous-Alexander is going to be an All-Star this year, and is shattering last year's averages, which were already good.
6. Ja Morant, Memphis Grizzlies, 69 Points: 17 Games, 28.5 PPG, 6.4 RPG, 7.6 APG, 0.9 SPG, 1.2 BPG, 25.7 PER, 2.0 WS.
Morant is the face of the Grizzles, and he is posting similar numbers from last year, when he took Memphis to the next level.
7 (Tie). Giannis Antetokounmpo, Milwaukee Bucks, 67 Points: 20 Games, 30.9 PPG, 11.4 RPG, 5.4 APG, 0.9 SPG, 1.2 BPG, 28.5 PER, 2.1 WS.
The two-time MVP missed a few Games, which dropped Antetokounmpo in the standings, but the Bucks are considered the top contenders to win it all this year.
7 (Tie). Devin Booker, Phoenix Suns, 67 Points: 20 Games, 27.9 PPG, 5.4 RPG, 5.8 APG, 1.2 SPG, 0.5 BPG, 22.4 PER, 2.3 WS.
Booker is on pace to have the highest PPG and PER of his career.
9. (Tie). Donovan Mitchell, Cleveland Cavaliers, 64 Points: 19 Games, 28.9 PPG, 4.0 RPG, 5.0 APG, 1.2 SPG, 0.5 BPG, 23.9 PER, 3.0 WS.
Mitchell's numbers in his first year in Cleveland are higher than his last year in Utah, and it is reflecting in the Cavaliers overall performance.
9 (Tie). Anthony Davis, Los Angeles Lakers, 64 Points: 17 Games, 26.2 PPG, 12.8 RPG, 2.7 APG, 1.5 SPG, 2.3 BPG, 29.6 PER, 3.2 WS.
Davis has been on fire lately, though the same can't be said about the rest of his team. He is currently the league leader in Rebounds per Game.