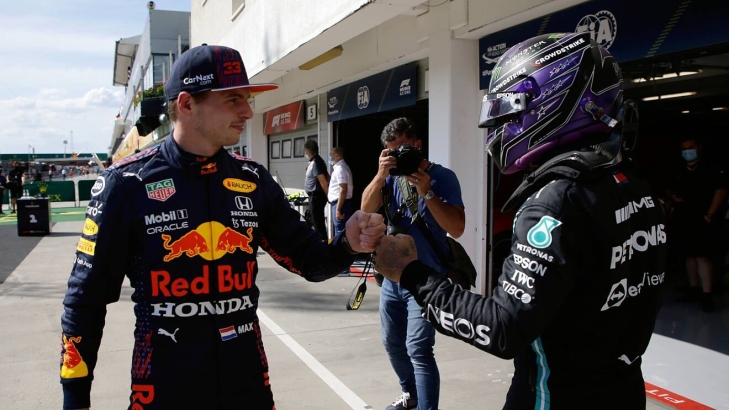 The rivalry between Lewis Hamilton and Max Verstappen is one of the most intense that any sport has ever seen with both sets of fans fiercely defending their chosen champion. Perhaps that has something to do with the day and age we live in and the black-and-white opinions that dominate public discourse. Indeed, there is very little room for a nuanced view and when it comes to Hamilton and Verstappen, the cancerous culture wars seem to dictate the narrative which makes the conversation all the more toxic. But in reality, it shouldn't be this way.
Indeed, Verstappen fans won't want to hear it but there is a reason that Hamilton is always at the top of the spoty betting odds as the inescapable truth is that the 36-year-old does a huge amount in the fight for equality off the track.
The spoty tips will always back a sportsperson who uses their platform for the greater good and there is no doubt that Hamilton has been incredibly brave over the years by raising his voice for those without one.
Now, it's easy to dismiss Hamilton's activism as virtue signalling but you have to go back to the start of the Englishman's journey into motorsports to understand that life was, in all likelihood, exceptionally challenging and the reality is that he is probably best placed to talk about overcoming the odds.
For instance, Hamilton's dad Anthony worked three jobs to pay for Lewis' karting career which indicates that nothing was given to this family, they had to pay untold sacrifices during a time when the world was perhaps less educated than it is now. In other words, there would have been many moments when Lewis could have walked away due to the hurt caused by unacceptable ignorance but he didn't, he kept pushing on and is now a deserved champion of change, as well as a seven-time world champion.
And as for Max, well, it's equally as complex as the 24-year-old tries to build his own identity in the world of Formula One with his father watching on. Of course, it's well documented that Jos Verstappen, Max's dad, was a lot less successful than Max, having raced 107 times in F1 without ever recording one win. Unfortunately, Max's dad became known as "Jos Vercrashen" in F1 circles such was the state of his own driving ability. This has prompted some within the industry to suggest that Jos has been trying to live his dream through Max by making up for the disappointment of his own career.
You can all of a sudden understand how complicated the dynamics of their relationship are and how uncompromising an upbringing Max may have had to endure. Some may argue that there are worse careers to be thrust into and Max has made a success of it by winning 19 more times than his dad ever did.
Granted, the Dutchman does look to relish the extremes of Formula One as well but you can be sure that there are times when Max questions whether he was forced into the sport or whether in fact, he would have ended up becoming an F1 driver on his own accord.
Perhaps the long and short of it is that for all of Max's desperation to win and seemingly unsporting tactics these days, keep in mind that he was programmed like this from the start of his life. Off the track, he is quiet and reserved and can often be found in his mobile home playing on his PlayStation between breaks on race weekends. In essence, Max has a soft heart but the constant feeling of existential angst may well take its toll.
Max and Lewis have come from markedly different backgrounds but they've had to fight their own battles to get where they are. Their respective pasts may override their decision-making today but deep down, they're both good guys caught up in heat of battle.