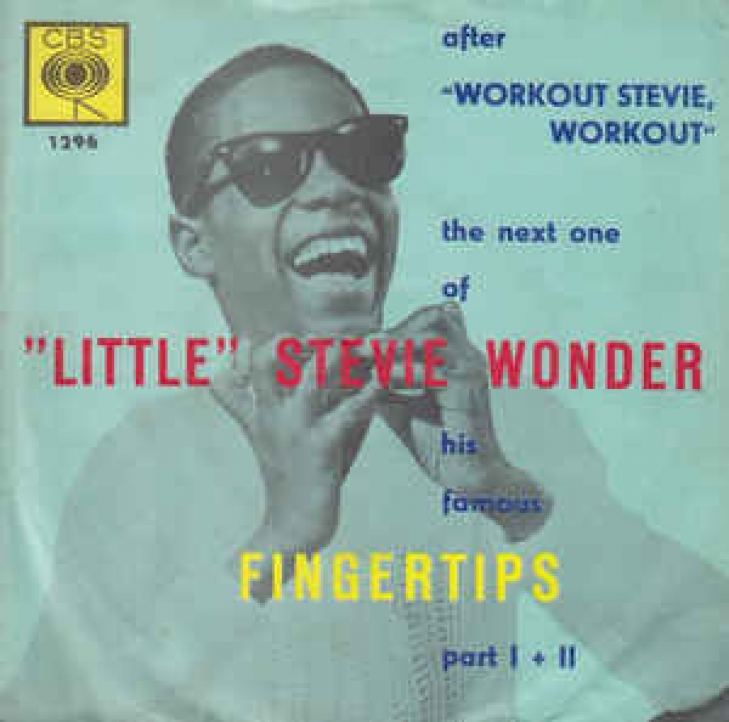 August 10 – August 30, 1963
"Little" Stevie Wonder
Fingertips
What were you doing when you were 13?
As for myself, I was wallowing in self-pity in badly fitted and outdated clothes, and was petrified about what lay ahead me in high school. I hate using the overused term "nervous wreck", but that is precisely what I was.
See, I am deeper than you thought!
Maybe, I'm not.
Let's move on.
Like most of you, music was an escape, but I learned pretty early that while I can listen to a song and gauge with decent accuracy what influenced it, I knew I couldn't play it. I know for sure that if I was a child in 1963 and I saw "Little" Stevie Wonder on my television screen, I would wonder how did so much talent get into someone so young. I am also wondering why the hell I can't figure out how to play chopsticks on the piano.
But I digress (again).
Born Stevland Hardaway Judkins in Saginaw, Michigan in 1950, was born six weeks early. At the time of his birth, he had retinopathy of prematurity. The doctors would place him in an incubator, but that would hasten the issues with his eyes, and he would become blind as an infant.
The Judkins family moved to Detroit, and their child, Stevland, showed an aptitude for music. He would self-teach himself the drums, piano and harmonica before the age of 10 and he was a clear a musical prodigy on a level that nobody had seen in years.
Stevie would sing in the church choir and would perform anywhere he could. At the age of 11, he was singing with his friends on the street corner and he caught the ear of Ronnie White, who was a member of the Miracles. He would arrange an audition with Motown founder, Berry Gordy Jr., who knew he had something phenomenal on his hands. Stevland Judkins was signed immediately. "Little" Stevie Wonder was born.
The first output was an instrumental album, "The Jazz Soul of Little Stevie Wonder", designed to showcase all of Wonder's musical abilities. It was followed with the natural follow-up, "Tribute to Uncle Ray", which as the name suggests was an album of Ray Charles covers, who like Wonder was a multi-talented blind African-American. His third album would be the one that placed him on the national stage, "Little Stevie Wonder the 12 Year Old Genius", which might be the most appropriately named album of all time.
It was recorded live at the Regal Theatre in Chicago, and it notably had fellow future Rock and Roll Hall of Famer, Marvin Gaye, playing the drums. Released as a single, was "Fingertips", an infectious and fun instrumental that featured Wonder's harmonica abilities. He would get national television spots where he performed it, and likeability was instantaneous. That talent, that smile, that joy. How could you not love him?
"Fingertips" made Stevie Wonder the youngest person to reach number one, which was broken by Michael Jackson of the Jackson 5 by the decade's end, though he still holds the record for the youngest number one by a solo performer.
Had I been alive in 1963, the cynic in me would have thought that this would be the end of Stevie Wonder. I would have thought how far could a blind harmonica master go in the modern music world?[1] As my wife likes to tell me (often), I would have been wrong.
I would like to think that many people in 1963 thought the same when prognosticating Wonder's future. With that one song, the wide breadth of Wonder's skills was not on display. The Songwriting, the voice, the other instruments he had mastered were not yet evident if you only knew him from this one song, and for a time, that is how much of America knew him. Some people, viewed him as a curiosity, and you could easily think the fact that a blind black kid made it this far would be the pinnacle of his career. Anyone, who would have listened to his album, "Little Stevie Wonder the 12 Year Old Genius", or any of the other albums that he had already would have known better.
As it stands now, Wonder's first number one hit likely isn't even among his top twenty most known. I could even argue that many people who claim to fans of Wonder may not even know this song at all.
We have a lot more of Stevie Wonder to come, but he won't be "little" when we get there.
Other Notable Songs that charted but did not go to number one in this time period: August 10, 1963 – August 30, 1963.
8/10/63: Wipe Out by The Surfaris went to #2 and reached #10 on the R&B Chart.
8/10/63: (You're The) Devil in Disguise by Elvis Presley reached #3.
8/17/63: Blowin' in the Wind by Peter, Paul & Mary went to #2 but went to #1 on the Adult Contemporary Chart.
8/24/63: More by Kai Winding went to #8 but would climb to #2 on the Adult Contemporary Chart.
8/24/63: Denise by Randy & the Rainbows went to #10 and also hit #18 on the R&B Chart.
8/24/63: I (Who Have Nothing) by Ben E. King hit #9, went to #16 on the R&B Chart, and also reached #10 on the Adult Contemporary Chart.
8/24/63: These Foolish Things by James Brown reached #55, and went to #25 on the R*B Chart.
[1] I am painting that statement as if I only knew him from one song. Remember, he didn't sing in it, so initial listeners would not have any idea just how well he could do perform with his pipes.