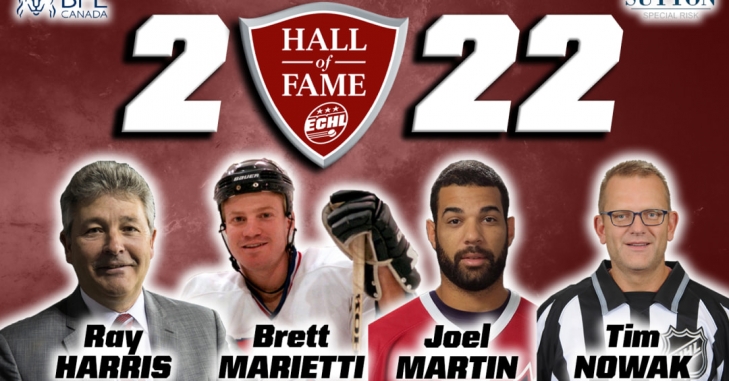 The ECHL has announced the four new members of their Hall of Fame, who make up the 14th official class. This group consists of Ray Harris, Brett Marietti, Joel Martin and Tim Nowak.
Ray Harris bought the Cincinnati Cyclones in 2002, where he has served as not only the team owner but President and CFO. Under his tenure, the Cyclones have won two Kelly Cups, won four divisions, and has increased attendance.
Brett Maretti played ten years in the ECHL, namely 550 Games with the South Carolina Stingrays (1994-2003). He led the Stingrays to Kelly Cup wins in 1997 and 2001, and had 481 Points in the league.
Joel Martin played parts of ten years in the ECHL (Columbus, Trenton, Augusta, Elmira and Kalamazoo) and is second all-time in the ECHL in Minutes Played (22,962), third in Games Played (394) and fourth in Wins (199).
Tim Nowak becomes the third official to make the ECHL HOF. He would later also make it to the NHL, where he worked over 1,700 Games.
The quartet will be inducted on January 17, 2022 in Jacksonville, Florida.
We here a Notinhalloffame.com would like to congratulate the newest members of the ECHL Hall of Fame.