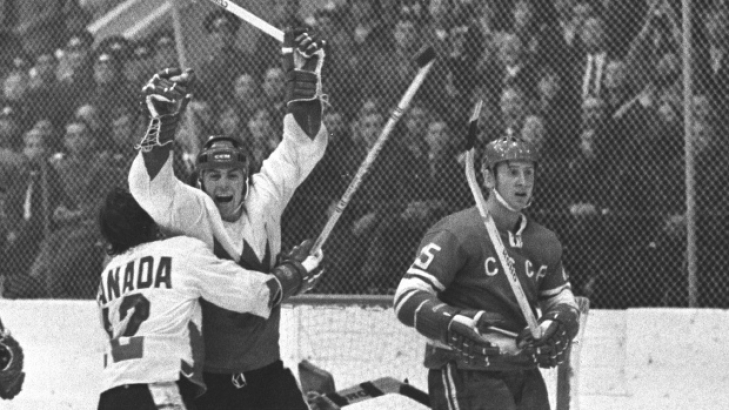 Every nation has its formative sporting moments; those events that gather friends and family around a TV to watch the action unfold; which pick up viewers as time passes, as people call their friends and say, "have you seen what's happening?". These are the events that sports professionals talk about decades later when an interviewer asks them, "So, what made you want to pick up a stick/reach for a bat/grab your running shoes?".
They are events that dominate the national conversation, at least for a week or so, and which have even been guiding smart wagers since sports betting in Canada became legal in 2021. When people say, "there's no chance a Canadian player/team could [x]", these are the moments people have cited to prove them wrong. So which moments have launched these revelations for a Canadian sporting audience?
Wayne Gretzky is traded to LA
Gretzky is nicknamed "The Great One", and when you have a nickname that doesn't reference your own name, you know you have joined the elite. No-one better has ever picked up a stick, and Edmonton Oilers fans were proud to call him their own for a decade starting in 1979. When Oilers owner Peter Pocklington traded Gretzky away to the Kings in 1988, the anger was so great that effigies of Pocklington were burned in public, and questions were asked in Parliament over whether the move could be blocked. Wounds heal, of course, and Gretzky is remembered these days simply as the best there ever was; he also - arguably single-handedly - made hockey a big deal even in warm-weather locations.
Donovan Bailey wins the Olympic 100m in 1996
Few events have been more scarring on the Canadian national sporting psyche than Ben Johnson's 1988 Olympic win and the rapid overturning of that win due to a failed drug test. That story has been told and re-told, but redemption came for Canadian sprinting eight years later as Bailey, running in lane six, legitimately broke the world record and picked up gold. The race had been preceded by three false starts and the disqualification of defending champion Linford Christie; in the circumstances, Bailey's focus and calm were astonishing.
The Blue Jays win the World Series in 1992. And then also in 1993.
Canadian teams were a late addition to Major League Baseball, beginning with Montreal in 1969. Toronto followed in the mid-70s, and it was the Jays who would first bring the World Series back over the border with them, knocking off perennial runners-up Atlanta in 1992. The triumph was more impressive when they repeated it the following year, defeating Philadelphia 4-2 in the series to become the first club since the Yankees in 1978 to retain the title.
Team Schmirler wins gold at the 1998 Winter Games
Curling was a medal sport for the first time at the 1998 games in Nagano, Japan. Selected after a competitive round-robin tournament, Sandra Schmirler's rink represented the Maple Leaf in Japan. After setting the pace in the pool stages, Schmirler saw off Great Britain in the semi-final and then won in nine ends against Denmark to take gold. As a result, Schmirler became the first curler to appear on the front of the New York Times.
Paul Henderson. Moscow. 1972.
There have, as we have seen, been other moments in Canadian sports which has grabbed the hearts and minds of the nation. However, the final game of the Summit Series in Moscow had it all. With the series tied at three wins each and a single tie - and having come back from a 3-1 series deficit - Canada faced the Soviet Union one last time for the honor of being the world's best ice hockey team. Trailing 5-3 at the entry to the final period, Canada needed something special. They got it.
Inspired by Phil Esposito, the visiting team mounted a comeback, culminating in Henderson's rebound winner with 34 seconds left to play. Fifty years on, it is a moment that reverberates with hockey fans, including those who weren't yet born when it happened.