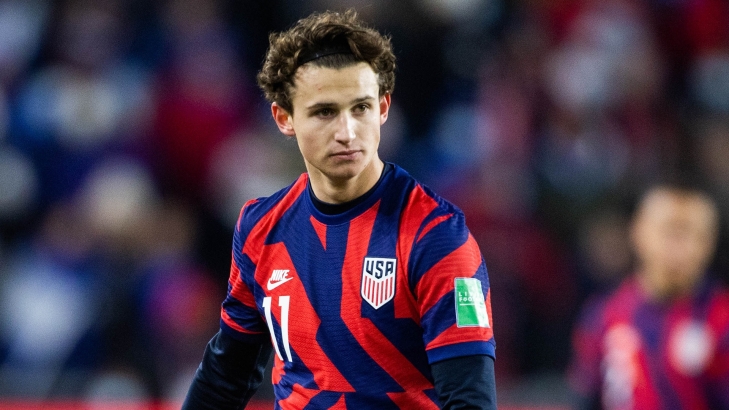 As soon as Leeds United secured Premier League safety on a dramatic final day of the soccer season, the West Yorkshire club announced the signing of long-term target Brenden Aaronson. The 21-year-old is expected to slot straight into the first team and breath some life into a misfiring attack.
This is not only a good move for the player, but it's also a promising sign for the USA men's national team. There are various new players gaining vital experience in Europe now, and this will help the side's chances in the upcoming World Cup in Qatar.
The Latest USA Player to Grace the Premier League
There have been 48 USA internationals in the Premier League up to now, but it's hard to think of many names that have set the division alight. The most notable player in recent years is Christian Pulisic, but his time with Chelsea has been plagued with injuries. When fit, however, he's usually one of the first names on the team sheet under Thomas Tuchel.
Tim Howard and Brad Friedel are the most familiar faces to English soccer fans, and both spent over a decade in the English top tier. There's also Clint Dempsey, who scored 50 goals for Fulham in 189 league appearances.
Aaronson is one of the latest players to cut their teeth in the MLS and then move to Europe to gain more experience. The Medford-born player spent a season and a half at Red Bull Salzburg, establishing himself as a first-team regular and cropping up with vital goals and assists in the Austrian Bundesliga and Champions League.
The promising soccer player drew the attention of Leeds because of his intense work rate and high-pressing style. His attributes were identified by former manager Marcelo Bielsa, and he also fits perfectly into Jesse Marsch's system. He appears to be an upgrade on all the players that Leeds currently have in his position and he could have an extremely bright future ahead of him.
Aaronson's Signing Likely to Allure More American Fans to Leeds

Aaronson's move is likely to be beneficial from a commercial standpoint for Leeds and the USMNT. There's no doubt that his and Marsch's presence will draw more American fans to support Leeds. That will also be helped by the interest of the San Francisco 49ers, who currently own a 44 percent stake in the Elland Road club.
American soccer fans can already place outright bets on United's fortunes in the upcoming season and can speculate over whether Aaronson's arrival will help push them up the table. At the time of writing, Leeds can be found at around 4/1 to finish in the top half. Obviously, American odds in the moneyline format are preferred by American bettors, where they'd be transcribed as +400. This is arguably easier to understand, as they are written with a plus or a minus symbol. This indicates the amount you need to wager to win $100 or the amount you would win for every $100 staked. For example, if it's +400 you win $400 if you stake $100. For gamers who are interested, the website explains this betting method and others.
Along with bringing more American eyes to Leeds and the Premier League, Aaronson's move will increase interest in the USMNT among the West Yorkshire fanbase. These supporters didn't have a reason to watch American soccer before but may now show a keener interest in the fortunes of their new player and his teammates.
Other American Players Making Waves in Europe
The great news for American soccer is that Aaronson isn't the only up-and-coming player who is gaining vital experience in the top leagues of Europe. In the past, the USMNT was mainly made up of MLS stars. With the North American league notoriously being of a lower standard than European divisions, this has been detrimental to progress on the world stage. This could be set to change, though.
Tyler Adams is another well-known name in Europe, and the defensive midfielder has become a mainstay in the center of the park for RB Leipzig. Timothy Weah is one of the most exciting prospects for the future of American soccer, and he's currently plying his trade for Lille in Ligue 1. There are plenty of others on different teams and top divisions too.
Leeds fans will be excited to see their new $30 million signing terrorizing defenses in the English top flight. If Aaronson can hit the ground running, he could usher in a new era at Elland Road and have the Whites looking up the league table. The player will also gain vital skills that he can bring to the world stage for the USMNT.