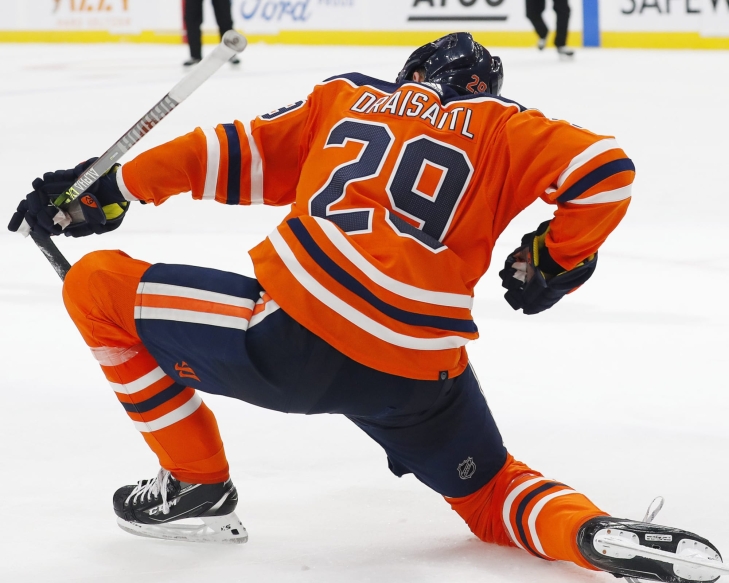 If you are a regular visitor at Notinhalloffame.com, you know that we created the Notinhalloffame NHL Cup, where in every regular season game, we award points (5-4-3-2-1) to the top five performers. This is the second year that we have done this, and Edmonton's Connor McDavid won the first one.
To keep everyone regularly in the loop this time, we have decided to give regular updates, starting at when the first player cracked 40 Points, and tell all of you the top ten. We will this going forward with every update as the first player breaches the elevated ten-point threshold afterward.
Here is the current top ten, based on the first player to breach 60 Notinhalloffame Cup Points:
1. Connor McDavid, Edmonton Oilers. 60 Cup Points: 30 Games, 26 G, 33 A, 59 P, +8, 6.9 PS. (#1 on last update)
Last year's winner is extending his lead and he is currently the league-leader in Goals (26), Assists (33), Points (59) and Point Shares (6.9).
2. Auston Matthews, Toronto Maple Leafs. 51 Cup Points: 30 Games, 15 G, 20 A, 35 P, +15, 4.1 PS. (#2 on last update)
Matthews is the defending Hart winner but he is not on the PPG pace he was last year. Still, he is Toronto's best player and is near the top of the Cup Standings, though he is not currently in the top ten this year in any major category other than Shots (4th with 134).
3. Brayden Point, Tampa Bay Lightning, 48 Cup Points: 28 Games, 15 G, 15 A, 30 P, 0, 3.2 PS. (Not ranked on last update)
Point rocketed to number three on the strength of five Goals in the last four Games. The last year that Point averaged over one in PPG was 2018/19.
4. Leon Draisaitl, Edmonton Oilers. 47 Cup Points: 30 Games, 21 G, 30 A, 51 P, +8, 5.7 PS. (Not ranked on last update)
Draisaitl has been on fire lately with nine Points in his last four Games, and catapulted himself to number 4. He is currently the leader in Power Play Goals (9) and Game Winning Goals (8).
5. Linus Ullmark, Boston Bruins. 46 Cup Points: 20 Games, 17-1-0, 1.83 GAA, .938 Save Percentage, 5.1 PS. (#9 on last update)
Ullmark is the highest ranked Goalie, and his ascendence to likely All-Star has been colossal for Boston's rise to the top of the standings. Ullmark leads all Goalies in Wins, GAA, Save Percentage and Goalie Point Shares.
6 (Tie). Jason Robertson, Dallas Stars. 45 Cup Points: 30 Games, 23 G, 20 A, 43 P, +15, 6.1 PS. (#3 on last update)
Robertson is the current leader in Even Strength Goals (17), and is on pace to shatter last season's 41-38-79 output.
6 (Tie). Sidney Crosby, Pittsburgh Penguins, 45 Cup Points: 29 Games, 17 G, 21 A, 38 P, +5, 4.3 PS. (#9 on last update)
Crosby has done it all in hockey, but he has never won the Notinhalloffame Cup.
8. Kirill Kaprizov, Minnesota Wild. 44 Cup Points: 28 Games, 17 G, 18 A, 35 P, -8, 3.8 PS. (#4 on last update)
Kaprizov is easily Minnesota's best player and if he stays healthy should have his second straight 100-Point year.
9 (Tie). David Pastrnak, Boston Bruins. 43 Cup Points: 28 Games, 19 G, 20 A, 39 P, +11, 5.0 PS. (#7 on last update)
The Bruins are one of the NHL's top teams and Pastrnak is their top scorer. Boston has two players in the top ten along with Edmonton.
9. (Tie). Elias Pettersson, Vancouver Canucks. 43 Cup Points, 28 Games, 13 G, 21 A, 34 P, +4, 3.6 PS. (#7 on last update)
The 2019 Calder winner looks to be on his way to his best statistical year in the NHL.
Brady Tkachuk and Sebastian Aho have fallen off the top ten.
Our next update will occur when the first player breaks 70 Cup Points.