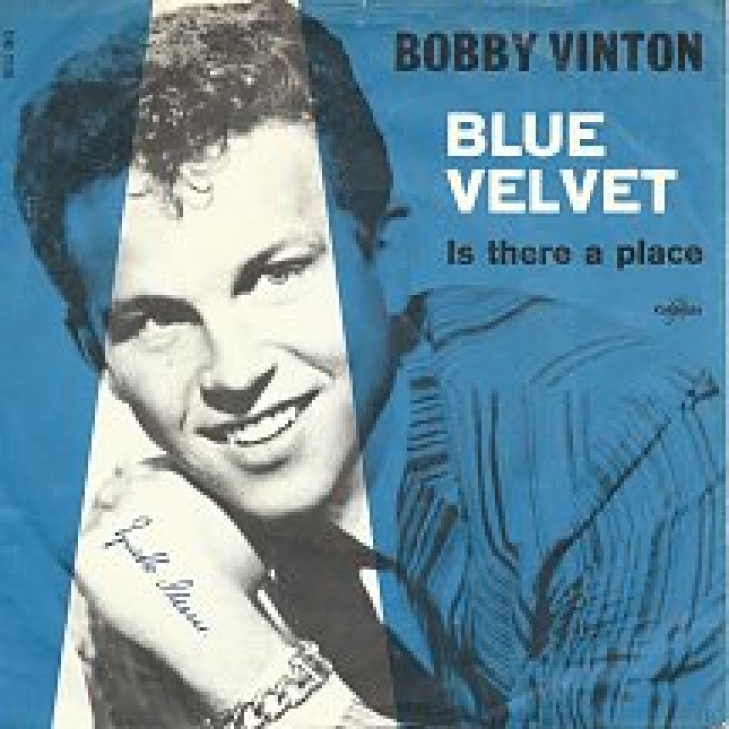 September 21 – October 11, 1963
Bobby Vinton
Blue Velvet
I have already tackled Bobby Vinton before with his previous number one, "Roses are Red", but with "Blue Velvet", I have a haunting song, though we suspect that vibe was unintentional.
The song itself was written by Bernie Wayne and Lee Morris in 1950. Wayne alleged that he got inspired by a stay at the Jefferson Hotel in Richmond, Virginia, where he saw a lady wearing blue velvet at a party. According to musical legend, the two hooked up (as the kids say), and a song was envisioned. I don't know if any of that is true, but let's say it is, as it makes a far better story!
The first recorded version of note was by Tony Bennett in 1951. It charted in the top 20, and within the same year, Arthur Pryscock recorded his version, which coincidentally also went to the top twenty. Bill Farrell and Norman Kaye would also get in on the "Blue Velvet Gravy Train", as both charted that year with their versions. At one time, all four variations were charted at the same time!
Can you imagine something like that occurring today? Impossible!
The Clovers took a crack in 1955, and the Statutes had a low-scoring hit with it in the early Rock and Roll era. With all due respect to the previous versions, most people of a certain age will always attribute it to Vinton.
Bobby Vinton would record a concept album of sorts where every song would have the word "blue" in it. This included recordings of "Am I Blue", "Mr. Blue", "Blue Skies", "Blue Hawaii", "Blue Moon", "Blueberry Hill" and "My Blue Heaven", but it was "Blue Velvet" that was hidden gem that would become his second number one hit. I say "hidden", as Vinton believed that his cover of "Am I Blue", would be the hit, but the powers that be proved to be right.
It was a romantic song, but that depended on your impression of it. Most people just recall that the woman in question wore a blue velvet dress, but they rarely paid attention to the lyrics that followed. This was not a love song so much as it was about a one-night stand that remained etched in the singer's mind, and would always be a sly smile on his face that only he understood.
In 1986, the unique filmmaker, David Lynch, wrote and directed the film, Blue Velvet, which incorporated the song, and utilized the Vinton version in the flick. Anyone who watched this film would be hard-pressed to hear the Vinton tune without seeing Isabella Rossellini at her most sultry.
Blue Velvet never seemed sexier.
Other Notable Songs that charted but did not go to number one in this time period: September 21, 1963 – October 11, 1963.
9/21/63: Heat Wave by the Martha and the Vandellas went to #4 but would go all the way to the top of the R&B Chart.
9/21/63: Mickey's Monkey by Smokey Robinson and the Miracles reached #8, but went as high as #3 on the R&B Chart.
9/28/63: Sally, Go Round the Roses by The Jaynetts went to #2, and to #4 on the R&B Chart.
9/28/63: Little Deuce Coupe by The Beach Boys hit #15.