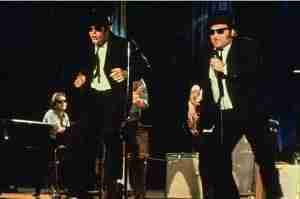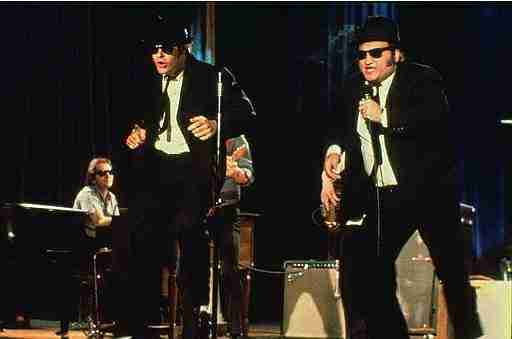 The Blues Brothers (1980)
In the early seasons of Saturday Night Live, Dan Aykroyd and John Belushi were comedic gods. In a sketch in 1976, in their famed bee costumes played "I'm A King Bee" with the house band, which at the time seemed like a one-off, but it was a hit with a lot of people on and off the show.
Aykroyd, who had a background in blues music from his days in a band in his native Ottawa, Ontario, Canada introduced his friend and castmate to the musical genre. It was a prefect fit for Belushi's singing, which while lacking in range, had a distinct grovel and undeniable soul to it. It wasn't long after the Blues Brothers were born.
The duo would jam, develop a look of dark suits, sunglasses and hats and did the cold open on a Steve Martin hosted show in 1978. It was an instant and needed to be duplicated.
Belushi and Aykroyd set out to assemble a real band and it was one hell of a line-up:
In addition to Belushi (lead vocals) and Aykroyd (background vocals and harmonica), the band had:
Steve Cropper (lead guitarist), who was a former member of Booker T & the M.G.'s.
Donald "Duck" Dunn (bass guitar), who was also with Booker T & the M.G.'s.
Matt "Guitar" Murphy (lead guitar and rhythm guitar), who was part of Howlin' Wolf's band and respected session musician.
Willie "Too Big" Hall (drums), formerly with the Bar-Kays, and was also with Isaac Hayes' band.
Tom "Bones" Malone (trombone), formerly with Blood, Sweat & Tears and then a member of the Saturday Night Live band.
"Blue" Lou Marini (saxophone), who was also with Blood, Sweat & Tears and like Malone was with the SNL band.
Alan "Mr. Fabulous" Rubin (trumpet), a classically trained trumpet player who was a member of the SNL band.
Paul Shaffer (keyboards), who was also with the SNL band and would later gain greater fame as the band director for David Letterman. (it should be noted that Shaffer could not appear in the film due to a commitment to Gilda Radner and was replaced by Murphy Dunne)
Not a bad line-up, right?
The Blues Brothers would be brought back as the musical guest for Saturday Night Live and would release "A Briefcase Full of Blues", an album that went to the top of the Billboard Album Charts, illustrating just how popular the comedy duo was. They toured with Steve Martin (who was selling out arenas with his comedy) and while it can be argued that the album's success was largely based on the Aykroyd and Belushi's popularity (especially Belushi as Animal House had just come out making him an even bigger star), those who bought the album found that they had a really good collection of covers done by people who now how to do it.
The album's liner notes also gave fans the backstory for Jake and Elwood, who were raised in a Chicago orphanage, where the local janitor, Curtis, taught them all about the blues sound and a book telling their history (written by Belushi's wife) and their fictional biography was complete…all that was needed was a movie.
Directed by John Landis, the Blues Brothers film was a hit. The plot saw Jake (Belushi) get out of jail to reunite with Elwood (Aykroyd) who looked to band back together with the purpose of raising enough money to pay the pack taxes on the orphanage they grew up to save it from foreclosure.
The film featured great music, possibly the best car chase of all time (or at least the longest), quotes that withstood time's test and Belushi (sadly due to his premature death from a drug overdose) is more iconic than ever.
In addition to what was already a superb musical line-up, Cab Calloway appeared as Curtis, and Aretha Franklin, Ray Charles, John Lee Hooker and James Brown treated us to performances. For many young fans, this was the first exposure to early soul and R&B music and intended or not segued a lot of people to the Blues and early R&B.
The Blues Brothers had a great movie, originating from a legendary show and had a number one album.
Great job voters and it is with pride that we welcome the Blues Brothers to the inaugural class of the Rock and Roll Hall of Fame!
The Bullet Points:
TV Show and Movies Appeared:
Saturday Night Live (1976-79)
The Blues Brothers (1980)
Actors:
John Belushi (Joilet Jake Blues)
Dan Aykroyd (Elwood Blues)
Songs you might remember:
Hold On
Sweet Home Chicacgo
Gimme Some Lovin'
Rawhide
Soul Man
Everybody Needs Somebody
{youtube}
EHV0zs0kVGg{/youtube}
{youtube}
RdR6MN2jKYs{/youtube}
{youtube}
m0zyuc_2UVg{/youtube}