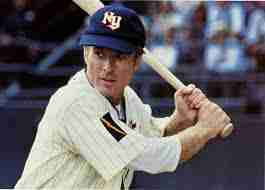 Class of 2014 Inductee: Roy Hobbs
The Natural (1984)
New York Knights Outfielder
In the early years of cinema, baseball and boxing dominated sports films, though each one took a vastly different narrative. Boxing flicks showcased the sport's dirty underbelly, where the mafia and corruption took the forefront. Baseball took a vastly different approach where there was almost a magical appeal to it. Perhaps, that is what made the 1984 film, "The Natural" so effective as it combined the magic that is associated with the game, at a time when the sport was becoming in the eyes of fans as a "business". Perhaps that is why this film ages so well and why Roy Hobbs entered the Fictitious Athlete Hall of Fame on the first full ballot.
We first see Hobbs as a 19 year old pitcher in 1923 on his way to try out for the Chicago Cubs, and along the way at a carnival he strikes out "The Whammer", the top hitter in baseball and draws the interest of a woman who obsess over ball players and lures the young phenom to her hotel room shooting Hobbs and committing suicide, but that isn't the last time we are to see Hobbs.
He returns to the screen as a thirty-five year old hitter, a rookie signed by the New York Knights whose management was deliberately tanking (thus signing an unproven 35 year old) so that due to a previous deal where if they won the pennant, the Manager (Pop Fisher played by Wilfred Brimley) would not become make a part owner of the team.
Once Hobbs gets a chance to play, he literally blows the cover a baseball with his bat; and it was not just any baseball bat. It was "wonderboy" a bat made from a tree that was struck by lightning from his youth.
With his bat, his skill and his leadership, the Knights push towards the pennant, though not before Hobbs has to turn down a bribe to throw games and the residue of his gun shot wound from his youth, which is threatening to not just end his career, but his life.
It's a story of morals and perseverance and one where the love of Baseball trumps a lot of the wrongs in the world.
Robert Redford, who was 48 when he played the 35 year old rookie, still had that boyish charm that made him believable in the part, brought that every man character that allowed him to become a star to both sexes. In his youth, Redford was considered one of the best looking actors in the business, bordering on being a pretty boy; but he had such a down to earth quality that even when he didn't look the part; he still looked the part.
Perhaps that is why when we watched Redford, it didn't bother us that he looked a little old, or that he didn't quite look right in the batter's box. Redford WAS Roy Hobbs, and for a man who had a lot of great roles in his career, this remains the favorite of many. No wonder he got in right away. Now pardon our pun as we say Hobbs was a "Natural" fit for the Fictitious Athlete Hall of Fame.
{youtube}
qdtCFKVtSls
{/youtube}
{youtube}
i94ldGNNSQ0
{/youtube}