Ricky "Wild Thing" Vaughn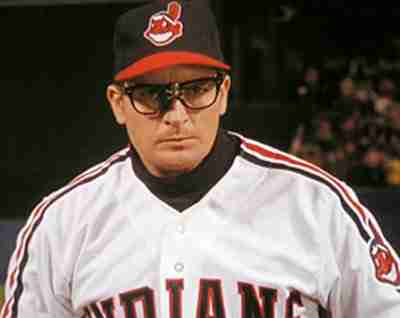 Class of 2014 Inductee: Ricky "Wild Thing" Vaughn
Major League (1989), Major League 2 (1994)
Cleveland Indians Pitcher
The cast of characters from Major League may have been the most colorful group of characters ever assembled on a baseball diamond, but those who watched the 1989 classic generally believe that the man who stood out the most was Ricky "Wild Thing" Vaughn.
He had the unique "veg head" haircut. He had the black horn-rimmed glassed with the small silver skull and crossbones on the bridge. He had the "I don't give a f**k" attitude and he could throw a baseball 100 miles per hour. He was the kind of player that men wanted to party with and women wanted to sleep with, even his teammates' wife!
On the field (and let's just focus on the first film), he had his crowning achievement by finally beating the Yankees and striking out Clu Haywood, who had crushed them all year and putting his Indians in the position to win the deciding game of the division. That moment alone is Hall of Fame worthy, and of course aided by the fact that we watched his game mature (though not necessarily the man) through the season. Like Coach Brown said, he was a big reason they got there!
Charlie Sheen, who was at the apex of his movie career, was perfectly cast as Vaughn as the role did require certain aloofness and quite cool that Sheen provided. Nobody (and probably not Sheen himself) would ever say that he had a lot of acting range but there are times you don't need a great actor to play a character (the film had that in Tom Berenger as Jake Taylor), you just need someone who is a character.
For the role, Sheen claimed that he took steroids to bulk up and he was able to get his fastball to roughly 80 miles per hour. That may not be Major League level (pardon the pun), but it made him look like a pitcher and mechanically he was sound enough to be believable; and yes, something like that SHOULD matter in terms of entering this Hall of Fame.
Now what kind of Major League career would he have had? As the reported Major League 3 (we're not counting the Back to the Minors) film that he was reportedly to be a part of never materialized, whether it be as a mentor (older player or coach, we have no idea), but whether Vaughn entered the Baseball Hall of Fame, or flamed out after two seasons, this was a Hall of Famer based on what we saw.
Chalk one up for the California Penal Baseball League!
{youtube}
bBaNdHqC_Yo
{/youtube}
{youtube}
g_wc9JvTXGc
{/youtube}