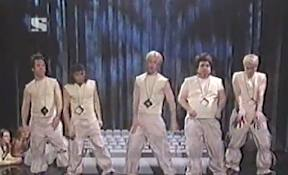 With a pair of sketches on Saturday Night Live making fun of the Boy Bands which were popular at the time, 7 Degrees Celsius channeled a poor man's N Sync with their look. Realistically, making fun of Boy Bands is like shooting fish in a barrel, and there are actually better parodies of the genre on the ballot.
The Bullet Points:
TV Show Appeared:
Saturday Night Live (2000)
Actors:
Chris Kattan
Jimmy Fallon
Horatio Sanz
Chris Parnell
Freddie Prinze Jr.
Songs you might remember:
AOL
Why you

should

vote for him them:
Jimmy Fallon is still successful….only if you are a fan of his we suppose.
Why you

should not

vote for them:
As mentioned, there are better Boy Band spoofs.
{youtube}
2eXJh5Kut1Q{/youtube}