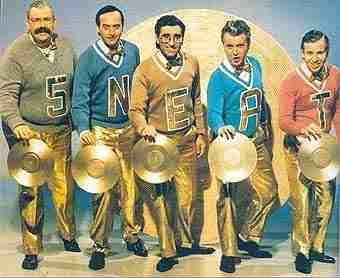 The greatest 1950's singing group from Melonville came back in a series of infomercials though they let us know that the 50's weren't so innocent after all. It was hard to believe, with their sweaters (emblazoned with letters that spelled out their group), soft harmonies and calm demeanor that they are the ones that gave us "Patsy has the Largest Breasts in Town". That song, and the SCTV connection should get them a vote or two, though we admit there are better Second City choices.
The Bullet Points:
TV Show Appeared:
SCTV (1977-1981)
Actors:
Dave Thomas
John Candy
Eugene Levy
Joe Flaherty
Rick Moranis
Songs you might remember:
Patsy has the Largest Breast in Town
Who Made the Egg Salad Sandwiches?
I'm the Goof in the Classroom
Why you

should

vote for them:
How about because you watched a lot of SCTV?
Why you

should not

vote for him (them):
A commercial on a sketch comedy show probably should not get in.
{youtube}
NMjtvSABQ3Q{/youtube}