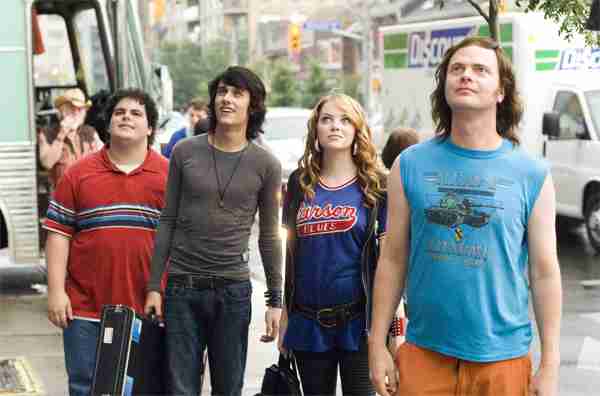 The failed drummer in all of us (ok, the person writing this) really identified with the character of Robert "Fish" Fishman who was destined for stardom until his original band that sold him out to get a record deal by replacing him with a record executive's nephew sold him out.
Broke, alone and living in sister's attic, Fish winds up through the standard comedic turn of events in his nephew's band. After a YouTube clip where he drums naked, the band receives a shot, and proves to be the real deal. They would open at the end of the film for his previous band (Vesuvius) that would be exposed as lip-syncers. Don't you just love how things work out in films?
The Bullet Points:
Movie Appeared:
The Rocker (2008)
Actors:
Rainn Wilson (Robert "Fish" Fishman)
Josh Gad (Mat Gadman)
Teddy Geiger (Curtis Powell)
Emma Stone (Amelia Stone)
Songs you might remember:
Nothin' but a Good Time (Poison Cover)
Tomorrow Never Comes
Why you

should

vote for him them:
We can't be the only ones with a soft spot for this film!
Why you

should not

vote for them:
The music they created was not very memorable.
{youtube}
URFRQS4Uro4{/youtube}