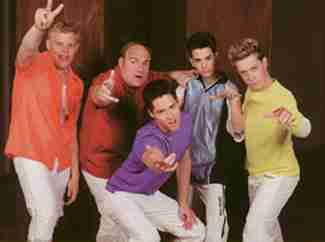 At the height of the boy band craze (although, did it ever really leave?), MTV decided to naturally capitalize by making a TV movie (their first original one), which spawned a television series. It was an intelligent parody with each "traditional" boy band role covered (the cute one, the shy one, the bad boy, and the older brother) with songs that straddled on the border of satire and cheese, and actually spawned albums that cracked the Billboard Hot 200. Had the premature death of one of the members (Michael Cuccione: The "Cute One") not have taken place, it is conceivable that their run would have been longer, but does not a boy band have a shelf life anyway?
The Bullet Points:
TV Show Appeared:
2ge+her (1999-2001)
Actors:
Evan Farmer (Jerry O'Keefe "The Heartthrob")
Noah Bastian (Chad Linus "The Shy One")
Michael Cuccione (Jason "Q.T" McKnight "The Cute One")
Kevin Farley (Doug Linus "The Older Brother")
Alex Solowitz (Mickey Parke "The Bad Boy")
Songs you might remember:
You + Me = Us Calculus
Say It (Don't Spray It)
The Hardest Part of Breaking Up (Is Getting Your Stuff Back)
Why you

should

vote for him them:
For a hot minute, this was actually successful.
Why you

should not

vote for them:
Once that minute ended, they were quickly forgotten; much like the boy bands they spoofed.
{youtube}
I-_TD4gefbE
{/youtube}
{youtube}
oc9Xyvvfm4I
{/youtube}
{youtube}
Nrwl6a4-lSg{/youtube}