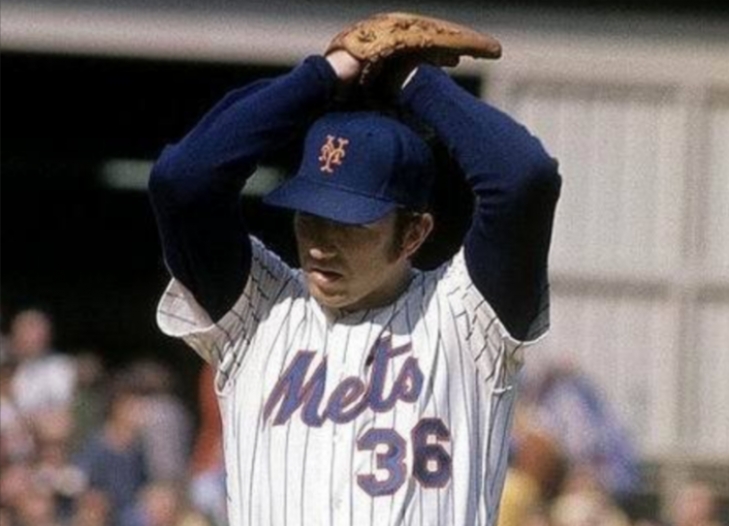 Regular visitors of Notinhalloffame.com know that we are slowly working on the top 50 of every major team in the NHL, NBA, NFL and MLB. Once that is done, we intend to look at how each team honor their past players, coaches and executives. As such, it is news to us that the New York Mets will be retiring the #36 of Jerry Koosman this season.
Koosman made his major league debut with the Mets in 1967, and in the following season, he was an All-Star with a 19-12 record and a 2.08 ERA. He followed that with a 17-9 campaign with a 2.28 ERA, and a second straight trip to the All-Star Game, but this was 1969, and a very special season. This year, along with fellow Pitchers, Tom Seaver and Nolan Ryan, would take the "Miracle Mets" to a shocking World Series Championship. The Mets, who began their existence in 1962, had never had a winning season until '69, and despite their Pennant win, they were expected to falter against the favored Baltimore Orioles. The Mets would win in five with Koosman winning two Games, including the clinching Game 5.
Koosman played with the Mets until he was traded in 1978 to the Minnesota Twins. His best regular season with New York was in 1976, where he had a career-best 21 Wins with a 2.69 ERA and 1.096 WHIIP. He was the runner-up for the Cy Young Award that year. Overall, as a New York Met, Koosman would have a record of 140-137 and 1,799 Strikeouts.
The retirement ceremony will take place on June 13, during the Mets' home game against the Washington Nationals.
The other retired numbers by the Mets are Gil Hodges (#14), Mike Piazza (#31), Casey Stengel (#37), Tom Seaver (#41), and the league-mandated #42 of Jackie Robinson.
We here at Notinhalloffame.com would like to congratulate Jerry Koosman for earning this honor.