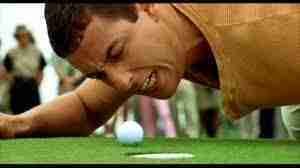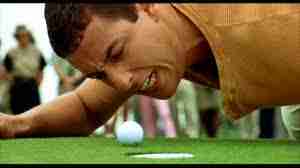 Happy Gilmore (1996)
Professional Golfer
Does this make it a clean sweep for hockey for the 2015 Inductees?
While Gilmore was a washout as a hockey player, he did have a booming shot, which was about the only real hockey skill he had. Gilmore would parlay that skill to hustling on the driving range, and when he learned from one armed golf pro, Chubbs Peterson how much money he could make playing professionally, he took to the links in order to raise enough money to save his beloved grandmother's home.
Gilmore would gain a lot of fans on the tour and changed the dynamic of who watched golf. The new blue collar slobs who frequented the gallery didn't make Gilmore a lot of friends within his new peers, especially the slimy Shooter McGavin, who desperately wanted Happy off of the tour.
You know what happened right? Happy Gilmore won the championship, saved his grandmother's house and got a pre Modern Family, Julie Bowen, and on golf courses everywhere duffers constantly ask the ball if they are too good for their home when they miss their putt.
The Fictitious Athlete Hall of Fame is proud to welcome Happy Gilmore to the 2015 Class!