The Dalton Academy Warblers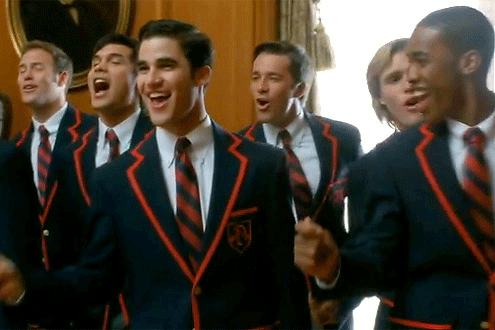 We might have to rely on the help of the Glee fans on this one. We admit to not knowing that much about the Glee phenomenon, but we are aware that is was pretty big at one time. As such, one of the main opponents for the William McKinley High Glee Club has to be considered a contender here; especially considering the Warblers actually had an album that went to number 2 on Billboard. Seriously, that did happen.
The Bullet Points:
TV Show Appeared:
Glee (2010-)
Actors:
Darren Criss (Blaine)
Chris Colfer (Kurt)
Telly Leung (Wes)
Dominic Barnes (Trent)
Curt Mega (Nick)
Riker Lynch (Jeff)
Jon Hall (Beatboxer)
Grant Gustin (Sebastian)
Titus Makin (David)
Eddy Martin (Thad)
Nolan Gerard Funk (Hunter)
Songs you might remember:
A bunch of covers
Why you

should

vote for them:
It is hard to argue with the success of a group that is not prominently featured, yet still sells albums in the real world.
Why you

should not

vote for them:
Does any a capella singing group really belong?
{youtube}
mpmW5YrmuSg
{/youtube}