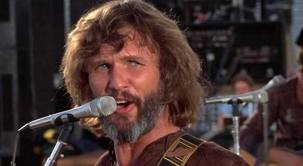 "A Star is Born" may be the name of the film but for John Norman Howard (Kris Kristofferson) his star was falling fast. As much as this was Barbara Streisand's picture, many preferred watching the acting of Kristofferson and the inner conflicts he was going through. He always played a sentimental tough guy well, and here he was more vulnerable than we have seen him. For many, he made this film.
The Bullet Points:
Movie Appeared:
A Star is Born (1976)
Actor:
Kris Kristofferson
Songs you might remember:
Watch Closely Now
Why you

should

vote for him:
Kristofferson was very good in this film.
Why you

should not

vote for him:
His acting was good, but it was a tad depressing.