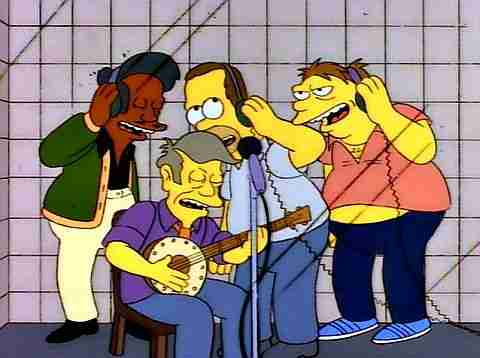 In one of the most famous Simpsons episodes of all time, we learn of Homer's past singing career as a member of the successful Barbershop Quartet, The Be Sharps. How successful were they? Well, they had a major hit (Baby on Board) and won the Grammy for Soul, Spoken Word and Barber Shop Quartet! Of course, like all successful Barber Shop groups; they were a victim of their own success, and a Yoko Ono lookalike.
The Bullet Points:
TV Show Appeared:
The Simpsons (1993)
Actors:
Singing Voices: The Dapper Dans
The Fictional Band:
Homer Simpson
Barney Gumble
Seymour Skinner
Apu Neehasapeemapetilon
Songs you might remember:
Baby on Board
Why you

should

vote for them:
Come on, they won a Grammy!
Why you

should not

vote for them:
Oh wait…..it's a Grammy.
{youtube}
pURFU3pL93o
{/youtube}