All of life is a coming home.
Salesmen, secretaries, coal miners,
bee keepers, sword swallowers - all of us.
All the restless hearts of the world,
all trying to find a way home.
It's hard to describe what I felt like then.
Picture yourself walking for days in a driving snow.
You don't even know you're walking in circles,
the heaviness of your legs in the drifts,
your shouts disappearing into the wind.
How small you can feel. How far away home can be.
Home.
The dictionary defines it as both a place of origin,
and a goal or destination.
~ Robin Williams in the film, Patch Adams
Slacker CMW Celebrity Interview with Burton Cummings
Fairmont Royal York Hotel, Toronto
March 22, 2012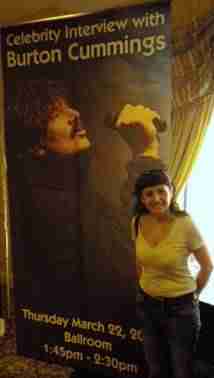 I don't think I was listening to "Wheatfield Soul", The Guess Who's debut album when it was first released back in 1968, but I certainly have memories of listening to "Friends of Mine", track four, quite a lot in the early 80s, because of its similarity to The Doors. Recently, I finished reading Randy Bachman's book, Vinyl Tap Stories, and I was reminded just how important The Guess Who, and the band's songwriters have been to Canadian music.
With unusual double-digit temperatures for the month of March, The Ballroom inside the Fairmont Royal York Hotel was like a sauna when I arrived to witness the Slacker CMW Celebrity Interview with Burton Cummings, Bachman's song writing partner in The Guess Who. Born on New Year's Eve 1947, Cummings is now approaching retirement age, and had to wipe his brow constantly with a towel while discussing his gratitude for still having such a healthy career. Ever since his single mom saved her pennies to give him piano lessons at the age of four, it's always been about music for Burton. The high school dropout may never have aspired to be the next Oscar Peterson, but he did feel he had a good shot at being the next Fats Domino, or the next Jerry Lee Lewis. In the early days, The Guess Who would play four one-hour sets nightly, with ten minute breaks in between, and then lug their own gear. Those were the days of real stamina, and the stuff that can make or break a band. It was the summer of '66, and they were glad to do it, says Burton, because "we wanted it bad enough". And they weren't playing Madison Square Garden every night either, but small clubs across Canada, in towns with a population of 800. It was from working in the trenches that they learned.
Burton Cummings started writing songs long before The Guess Who, when he was still in the Winnipeg band, The Deverons. But he says the real breakthrough came when he started writing songs with Randy Bachman. "These Eyes", for example, currently gets five million airplays across North America. Cummings also credits Bachman for writing the great piano riff for "These Eyes", impressing him that a guitar player could actually do that. "These Eyes" was an important song in The Guess Who's career, but "Laughing", their second big hit, was just as important. It proved to Cummings they weren't a one-hit wonder, and his musical career would not be over at 20. But he admits that both ballads were written to please the record company because all the boys in the band really wanted to do was rock out like Led Zeppelin. Robert Plant, front man for Led Zeppelin has called Burton Cummings "a lead singer with one hell of a voice".
When asked if he would ever write a book about his life, Burton says that although he has kept a diary, he has no interest in writing a book, preferring to blog and Facebook instead. "Besides, if I wrote a book I'd ruin even more relationships than I already have!" Cummings also acknowledged the importance of record producer Jack Richardson in bringing The Guess Who to international stardom. Richardson mortgaged his house, flew the band to New York, and financed the making of Wheatfield Soul which resulted in a Top 10 U.S. hit for RCA Records. Music critic Peter Goddard also deserves credit, says Cummings, for writing such a positive review of The Guess Who in The Toronto Star.
Cummings seems very proud to have written many songs about Canadian places, but "85% of pop music are love songs," he says. "And some are great love songs. But it's the other 15% that I'm really interested in." When asked about the birth of "American Woman", he replied, "you know, some people have selective memories about how that song came to be". The band was playing at a place called Broom & Stone in Scarborough, says he, and there was a kid bootlegging the show with a cassette recorder. Upon their road manager confiscating the tape, the band realized how catchy a riff they'd played in what was a spontaneous jam. After further work on that riff, "American Woman" went on to reach #1 on the Billboard Hot 100 of 1970.
The Guess Who have had many successes between 1968 and their split in '75, but by the mid-seventies, Cummings was ready to set out on his own, and established himself as a solo artist with his first smash hit "Stand Tall". Although Cummings has continued to work with Bachman on and off since 2005, performing concerts across the country and recording The Bachman-Cummings Songbook, Burton doesn't foresee working with Randy in the too-foreseeable future, as he's keeping himself busy with his own touring schedule, and getting ready to release a new cd "Live @ Massey Hall", as well as a book of poetry. The 64-year old took to the piano stool and treated the delegates, media, and fans that were assembled in the Fairmont Ballroom to a performance of "I'm Scared". He followed that with a song he wrote after watching an episode of Kojak in 1977. With a strong and powerful voice that reverberated the entire room, he sang of a fugitive on the run...."Break it to them gently when you tell my mom and dad. When you see my baby sister, be as kind as you can. And break it to my grandma, who said 'That boy's wild and bad'. Break it to them gently, when you tell them that I won't be coming home again."
Cummings has travelled the world and lived for a time in Los Angeles, but eventually made his way back home to Winnipeg, "wiser and thankful about his place in the world, as a person, and as a Canadian". In 2009, Cummings was named an officer of the Order of Canada, one of the country's highest civilian honours, marking a lifetime of outstanding achievement, dedication to community, and service to the nation. In June of 2011, Cummings received a star on Canada's Walk of Fame, and speaking of community, Cummings has invested in Salisbury House, a restaurant known as "Sals," and a chain considered a Winnipeg institution. Burton Cummings also supports the heritage building in downtown Winnipeg that now bears his name, The Burton Cummings Theatre for the Performing Arts. "My one mission in life was to leave a lasting impression." ~ Burton Cummings.


Martha Wainwright
Slacker CMW Montreal Night at the El Mocambo
March 22, 2012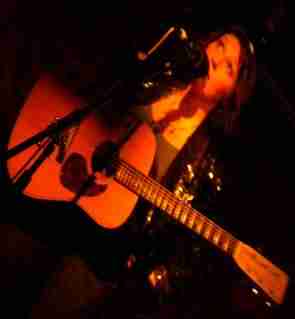 The daughter of folk legends, Kate McGarrigle and Loudon Wainwright the Third, Martha Wainwright is a Canadian-American singer-songwriter. She was raised in Montreal, Quebec and growing up, was often found performing on stages with her parents. But the start of her musical career really began when she sang with her brother Rufus as a duo in the early 1990s. Wainwright released an independent cassette, "Ground Floor" in 1997, followed by a self-titled six-song EP in 1999. In 2005, she released her first full-on album called 'Martha Wainwright', and the London Sunday Times included the attention-grabbing song titled "Bloody Mother Fucking Asshole" in their list of songs of the year. In 2008, Martha released the follow-up, "I Know You're Married But I Have Feelings Too", which showed her growth as an artist and a songwriter to be reckoned with. Wainwright had moved to New York City, where she made contact with record producer Brad Albetta, who worked with her on both albums, and became her husband in 2007. Their son, Arcangelo was born in 2009.
For the last two years, alongside brother Rufus, Martha has worked to raise research dollars for sarcoma, the rare cancer that took her mother's life in 2010. And in 2011, she toured to promote her third album, San Fusils, Ni Souliers A Paris: Martha Wainwright's Piaf Album; an homage to Edith. Wainwright is signed with indie labels Rounder Records in the United States, and MapleMusic in Canada. She is currently recording a new album due out in the summer of 2012.
Upon arrival at the El Mocambo, I found Martha Wainwright hanging out in the lobby with members of the psychedelic-folk-pop band, Adam & The Amethysts, who like Wainwright, also hail from Montreal. And at the legendary Toronto bar (where The Rolling Stones played that historical free show back in the seventies), it was indeed Montreal night on day two of Slacker Canadian Music Week.
A huge fan of Wainwright's father Loudon, it was a pleasure to chat with Martha about seeing her dad perform a week previous, in an off-Broadway play in NYC called Hot Lunch Apostles. We both agreed that it's an amazing play, told by amazing actors, some of which are in the stages of mid-life or older, yet have no problem stripping down completely naked in front of audiences night after night. "And Martha, unlike you," I laughed, "I've never heard your father cuss so much. In fact, I don't think I've ever heard him say the word "fuck" before Hot Lunch Apostles!" Loudon's daughter has also been known to display acting ability, but hasn't done so in years. Perhaps she has enough on her plate as a recording and touring artist, not to mention what it takes to mother a two-year-old. She can however be seen performing in the 2004 Martin Scorsese film 'The Aviator', starring Leonardo DiCaprio.
Wainwright's performance in the downstairs room of the El Mo was both mesmerizing and captivating. The room may not have had the attentive atmosphere of say, a folk club like Hugh's Room, but her unique voice demanded the attention of the rowdy drunks at the back nonetheless. Martha is very much like her father, right down to the big toothy smile, left leg lift, and fiery wit. The word 'fuck' was heard no more than two songs in, as she shushed the noisy revelers with "Quiet! This is a song about motherhood." Announcing early on that most of the songs she'd be performing would be all-new, she did go back to her debut album anyway, to tell us... "There are millions and millions of people around, on my tv, walking my streets, making sounds. And I can walk with them. I love them, I need their love. There are others I have known as poor souls, sores exposed. The run-of-the-mill, the destitute, and the cold; sores exposed to the blisters and shards, where any kind of kindness is as far as the sun, the sun, the sun, the sun... run, run, run, run. I know a place, I've seen a face, and I'll take the coast from factory to factory."
Wainwright also sang a not-very-well-known song written by her mom. And the song to draw the show to a close was, again, from her debut. A song called "This Life". A song that will stay in your head; a little country song that stays in your head. It stayed in mine all the way home.
Slacker CMW Celebrity Interview with Paul Rodgers
conducted by Jeff Woods
Fairmont Royal York Hotel, Toronto
March 24, 2012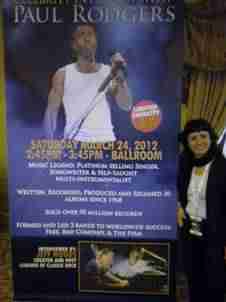 Also known as "The Voice", Paul Rodgers is a singer-songwriter, best known for fronting the rock band Free, as well as Bad Company. Between the years 1968 and 1973, Free released four top-five albums, and the hit song "All Right Now". Free toured the world and played The Isle of Wight Festival in 1970, which also saw Jimi Hendrix, The Who, and Joni Mitchell on the bill. And only just two years ago, "All Right Now" surpassed four million air plays in the United States of America. Rodgers says, "Free was a great band that has stood the test of time, but we weren't really ready for success". Between the years 1973 and 1982, Rodgers formed Bad Company, and released six multi-platinum albums that included the hit songs "Feel Like Making Love", "Rock and Roll Fantasy", and "Shooting Star".
In 1983, Rodgers released his first solo album "Cut Loose", in which he played all the instruments. He also performed at the ARMS Benefit Concert to support Small Faces bass player Ronnie Lane in his fight against multiple sclerosis. That bill also featured Eric Clapton, Joe Cocker, and Jimmy Page. This was at the same time he joined forces with Page in The Firm, which resulted in two more albums. In 1988 he performed at Madison Square Garden for the Atlantic Records 40th Anniversary show.
The 90s saw Rodgers release the Grammy-nominated "Muddy Water Blues" with contributions from Jeff Beck, David Gilmour, and Brian May, amoung others. He also performed at the Woodstock 25th Anniversary concert, went on a world tour for three years, which included a tour with Bad Company, the first in twenty.
2005 saw Rodgers join members of Queen at the Nelson Mandela Aids Awareness Benefit, and subsequently went out on a tour with them all over Europe, North America and Japan, releasing a double live cd and dvd called "Return of The Champions". Many bands have pursued Rodgers for his talents as a vocalist. He was asked to join Journey before Steve Perry took it on, and Robbie Krieger wanted him to front The Doors post-Morrison, to name only two. John Cougar Mellencamp calls Paul Rodgers "the best rock singer ever." A poll in Rolling Stone magazine ranked him #55 on its list of "100 Greatest Singers of All Time", and in 2011, Rodgers received the Ivor Novello Songwriting Award for Outstanding Contribution to British music.
In The Ballroom of the Fairmont Royal York Hotel on day four of Slacker Canadian Music Week, Greg Simpson added something else to Rodgers' impressive bio, by introducing him as a newly-officialized Canadian citizen. When Paul appeared on stage carrying a hockey stick, he received a standing ovation. With a charming British accent, he told us what an honour it was to be a Canadian. Enjoying the Okanagans for its peacefulness, no street lights, and having only a hardware store, Rodgers has called Canada "home" by living in British Columbia for the last fifteen years with his Canadian wife Cynthia, but only recently decided to make it official. During a stage of the citizenship process, he told of the microphone breaking after he was asked to sing the national anthem. "It blew up actually." Jeff Woods, creator and host of The Legends of Classic Rock who was conducting the CMW interview, commented that perhaps Canada is not known for well-made microphones. (laughs)
Growing up in a working-class town in the northwest of England, blues music is what originally captured the fancy of Paul Rodgers. After discovering he could sing at the age of twelve, Rodgers recalled an early performance he did of "Good Golly Miss Molly", and cited James Brown and Wilson Pickett as two of many people that influenced him. Rodgers also spoke of the warmth of analogue recording, and how he still loves his vinyl.
Like a lot of twenty-one-year-olds in 1970, Paul says he was an angry guy. And like many young artists, he got his anger out through song writing. Part of his anger came from the fact that people like Jimi Hendrix and Janis Joplin were dying. "This is the entertainment business, not a war zone!" From that anger came the inspiration for the song "Shooting Star"... "Johnny died one night, died in his bed, bottle of whiskey, sleeping tablets by his head. Johnny's life passed him by like a warm summer day. If you listen to the wind, you can still hear him play..."
Rodgers told the story of touring with Free and Alexis Corner back before the days of Led Zeppelin, when Robert Plant appeared at a show and got up to jam with Corner. Back at the hotel, Rodgers and Plant got to talking over tea. Plant asked Rodgers if he knew a guy named Jimmy Page, as Page had just asked Plant to join a band and offered either thirty quid or a percentage. Paul told Robert, "take the percentage!" On the subject of Peter Grant, Led Zeppelin's manager who also signed Bad Company to Swan Song, Zeppelin's record label, Rodgers said Grant was a giant, an ex-wrestler with the reputation of a gangster. He was smart with business contracts and protective of his bands, and it was true he could scare people with a Tommy gun and a Fedora hat just like you see in the concert film The Song Remains the Same. Of Jimmy Page, Rodgers still sees him. "He's always there. After I left Bad Company, I stayed home to spend time in my recording studio, and Jimmy would drop by to write songs together."
With an affinity for horses, Rodgers is now a supporter of The Racehorse Sanctuary in England, after the wife of John Bonham (Led Zeppelin's drummer) introduced Paul and his wife to the Sanctuary. Paul just couldn't believe how anyone could shoot and kill such magnificent animals just because they were too expensive to keep. One hundred percent of the proceeds from the sale of his 2011 song "With Our Love" is earmarked for the Sanctuary, as well as the Rocking Horse Children's Charity and the Seraphim 12 Foundation. And for the 2012 charity album Chimes of Freedom, a compilation of Bob Dylan covers in support of the human rights organization Amnesty International, Rodgers contributed his rendition of "Abandoned Love" with the help of his friend Nils Lofgren, who he says "added the colours".
When Woods asked if he had any tips for up-and-coming singers, Rodgers said simply, "Don't do it! (laughs) I may have lived this business, but I'm no expert. However, you have to believe in what you're doing, and you have to stay out there; stay out on the scene in any way you can." Rodgers is excited about touring with his solo band now, having performed three dates in Canada already. He's also performing with orchestras, and working on a record that he's not allowed to talk about yet. Rodgers sang and performed two songs on acoustic guitar during the celebrity interview, "Feel Like Making Love" and "Seagull". He also performed later with The Sheep Dogs as part of another Slacker CMW event.
A poster boy for the healthy rock star, Rodgers says he made a decision long ago to take better care of himself, because he wants to continue doing what he loves to do. "It's quite boring really, but the buzz is playing music." He also cares about the environment. "There are too many people on the planet, and we have to take care of the earth. If not, we may drown in our own rubbish."
Canadian Music Week official website...
http://www.cmw.net/
Burton Cummings official website...
http://burtoncummings.net/
Martha Wainwright official website...
http://www.marthawainwright.com/
Paul Rodgers official website...
http://www.paulrodgers.com/
About Lisa McDonald: Otherwise known as Live Music Head, Ms McDonald has an enormous passion for music that keeps her tapping away at a keyboard. A freelance music writer living in downtown Toronto, Lisa is currently in conversation with musicians and entertainers, publishing articles at web-based magazines. She may be contacted at: This email address is being protected from spambots. You need JavaScript enabled to view it.