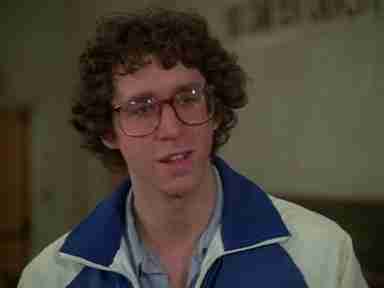 Clearly the nerd of the Carver High Basketball team, Abner Goldstein was the social misfit of the group. He looked like a fish out of water, and there were many episodes that played off of it. In a way, he was the stereotypical clumsy 70's Jewish athlete, though it was implied he wasn't a bad player. Does he get a break for our Hall by being the first (we think) Jewish TV athlete? Based on what he did for stereotypes, we suspect not.
The Bullet Points: TV Show Appeared:
The White Shadow (1978-1981)
Actor:
Ken Michelmen
Position Portrayed:
Bench/Forward
Played for:
Carver H.S.
Why you should vote for him:
Does he get points for being the first Jewish athletic character on American television?
Why you should not vote for him:
This was a nerdy character that we were not given a lot reason to cheer for or sympathize with.
Related items