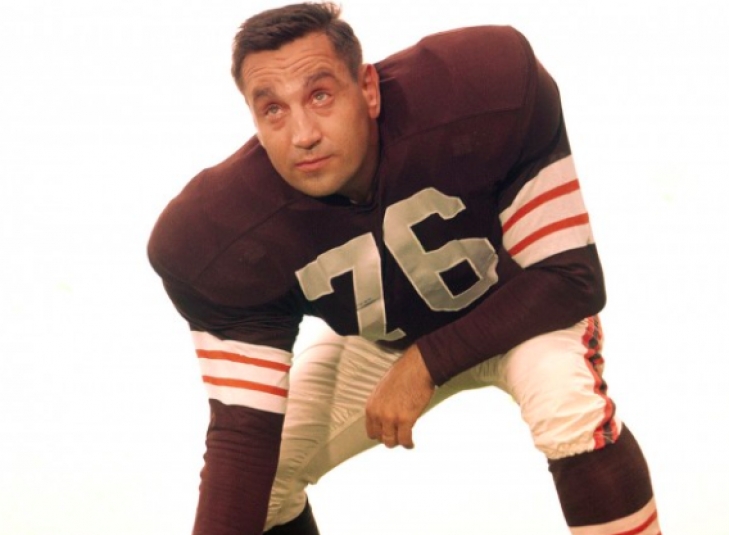 An original Cleveland Brown, Lou Groza was recruited by Paul Brown, primarily to act as the Browns' Place Kicker. Groza led the AAFC in Points in his rookie year, and after two seasons, Groza also helped out on Cleveland's Offensive Line, and he would perform a dual-role for the next twelve seasons.
The Browns won the first four AAFC Championships, and Groza helped them win the 1950, 1954, and 1955 NFL Titles. Groza evolved into an above-average Left Tackle, but his kicking talents were ahead of its time. "The Toe" was one of the first Kickers who could regularly get it through the uprights in further distances. Before Groza, Field Goals beyond 40 Yards were rarely attempted, but a new dynamic was added to the game with Groza as a weapon. He would be named a First Team All-Pro four years in a row (1952-55) with nine Pro Bowl appearances. Back issues compounded, and he retired after the 1959 Season.
Groza came out of retirement in 1961, rejoining Cleveland but only as their Kicker. For the fourth and fifth time, Groza led the NFL in Field Goal Percentage and helped the Browns win the 1964 Championship, making him the only player to win seven titles with Cleveland. He retired for good after the 1967 Season.
Graham entered the Pro Football Hall of Fame in 1974, and his number 76 is one of five retired by the team. He was also part of the inaugural Browns Ring of Honor in 2010. Groza is also a member of the 1950s All-Decade Team.