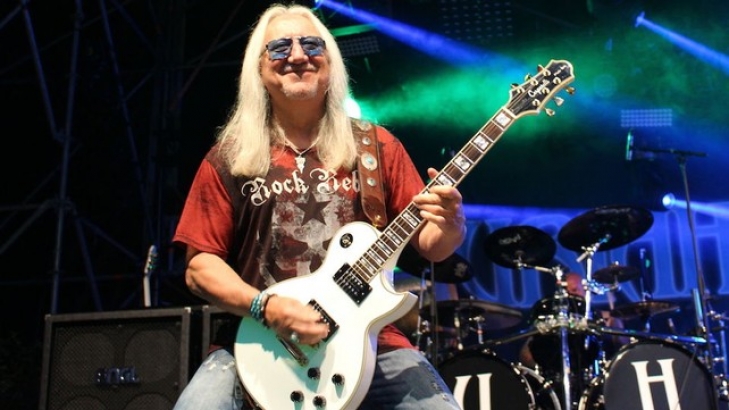 We have a bit of Rock and Roll Hall of Fame related news prior to Christmas as Pearl Jam bassist Jeff Ament discussed Rage Against the Machine's snub and Mick Box of Uriah Heep talked about his bands own chances for enshrinement.
On their Sirius/XM channel, Jeff Ament briefly mentioned that the fact that Rage Against the Machine was snubbed as they were not chosen for 2019 Rock and Roll Hall of Fame Class.
"Another first ballot snub, our cohorts from Los Angeles, Rage Against The Machine. Of course we have a lot of history with those guys, Brad was in a band with Ed years ago. We jammed with Brad a little bit when we were mixing our first record. We've been friends with those guys all the way through. Timmy and I are super tight bass bros."
We didn't say it was a deep thought on it.
RATM member, Tom Morello is a member of the Rock and Roll Hall of Fame committee and the band was nominated the last two years, which is the exact amount of time they have been eligible.
In an interview with "The Five Count Radio Show, Mick Box of Uriah Heep was asked why they have not been inducted yet. Here is what he had to say:
"I've never even thought about it, because all I hear about how they choose bands and people to be in it, I'm not quite sure it's good or bad; I can't make up my mind about it. But, saying that, just recently, a campaign has been started for us to be in the Hall of Fame. Whether it disappears into the ether, I have no idea. If it comes to fruition, it'll be great — it'll be a nice moment to savor. But, you know, life goes on regardless. And if it comes, great; if it doesn't, then that's great too."
"Wouldn't it be nice to have [the trophy]? But if it don't come, then life will continue. And as it is, it's a pretty good life already. I mean, the thing they do overlook is that we were pioneers for a lot of bands throughout our career. For instance, we were the first band to play in Moscow when Glasnost sent us an official invitation to be the first Western rock band to play over in Russia. We went to Moscow and played to 180,000 people in the Olympic stadium over a 10-day period. It was just immense.
Uriah Heep have been eligible for the Rock and Roll Hall of Fame since 1995 but have never been nominated.
We know that there will be a lot more discussion about the 2019 Class as we continue to inch towards the ceremony.
As always, we will be watching!