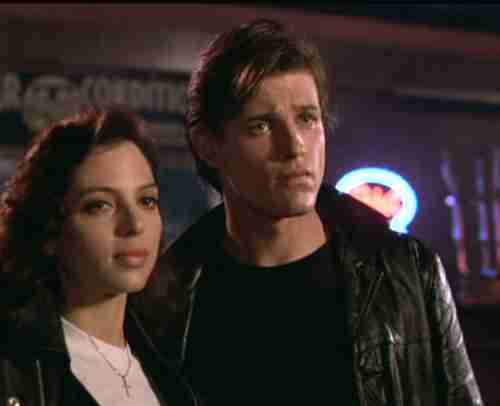 Here is a great nominee. With the music of John Cafferty and the Beaver Brown Band, Eddie and the Cruisers may have been Bruce Springsteen light, but it was part of a cult film that was really about the music. Considering this Hall of Fame is about the music, why not induct a fictitious band that wanted the music to matter! That makes it more of a legit nominee than 99 percent of the others on the ballot. We will also argue that Michael Pare lip-synched better than anyone else we have ever seen!
The Bullet Points:
Movies Appeared:
Eddie and the Cruisers (1983)
Eddie and the Cruisers II: Eddie Lives (1989)
Actors:
Michael Pare (Eddie Wilson)
Tom Berenger (Frank Ridgeway)
Matthew Lawrence (Sal Amato)
Helen Schneider (Joanne Carlino)
David Wilson (Kenny Hopkins)
Michael Antunes (Wendell Newton)
Bernie Coulson (Rick Diesel)
Anthony Sherwood (Hilton Overstreet)
Songs you might remember:
On The Darkside
Why you

should

vote for them:
Seriously, there is something special about this band.
Why you

should not

vote for them:
Their music would not have fit in the time frame.


{youtube}

KTNRGw00qCA

{/youtube}