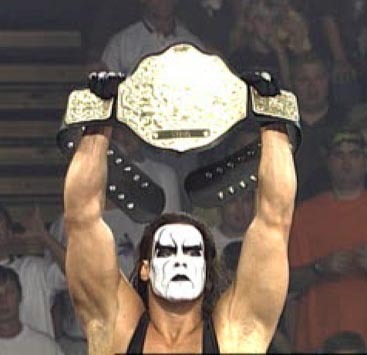 As of this writing (Spring 2013) Sting is still very much an active competitor in TNA Wrestling, but as he is well into his 50's, we feel comfortable with ranking him at this time. When it is all said and done, Sting may never wrestle a match under the WWE banner, and though that will disappoint many fans, this is the guy who helped carry World Championship Wrestling in their lean years, and was the good guy opposition against the initial run of the New World Order.

Overall, Sting may very well be one of the greatest babyfaces in wrestling history. More importantly he was able to have great matches with monsters (like Vader), brawlers (like Mick Foley) and technical wonders (like Ric Flair) and though he is respected as a worker, he is very much undervalued. The WWE has inducted performers who did very little in a WWE ring, but never anybody in the current era. Sting will likely be the first.





The Bullet Points:
Other Aliases:
Steve Borden (Real Name)
Flash

Billed From:
Venice Beach, California, U.S.A.

Key Championships Held:
UWF Tag Team (3) 2w/Eddie Gilbert, 1w/Rick Steiner
NWA Television
NWA World Heavyweight
WCW United States (2)
WCW World Heavyweight (6)
WCW International Heavyweight (2)
WCW World Tag Team (3) 1w/Lex Luger, 1w/The Giant & 1w/Kevin Nash
TNA World Heavyweight (5)
TNA World Tag Team w/Kurt Angle
Crockett Cup Winner (1988) w/Lex Luger
Iron Man Tournament Winner (1989)
Battlwbowl Winner (1991)

Why He Will Get In:
He is called an icon….and he is!

Why He Won't Get In:
He never wrestled one match in the WWE.

Five Greatest Moments/Matches (In Chronological Order):
1. Had the Match of the Year and became a star in a time limit draw against Ric Flair at the first Clash of the Champions (3/27/88)
2. Defeated Ric Flair to win his first World Heavyweight Championship at the Great American Bash (6/7/90)
3. Beat Cactus Jack in a very entertaining Falls Count Anywhere Match (6/20/92)
4. Loses the WCW World Title to Vader, but embarks on a series of great matches with the mastadon (7/12/92)
5. Defeated Hollywood Hulk Hogan to win the WCW World Heavyweight Title in one of the most anticipated match in wrestling history (12/28/97)



Should Sting be in the WWE Hall of Fame?
Definitely put him in! - 70%
Maybe, but others deserve it first. - 10%
Probably not, but it wouldn't be the end of the world. - 20%