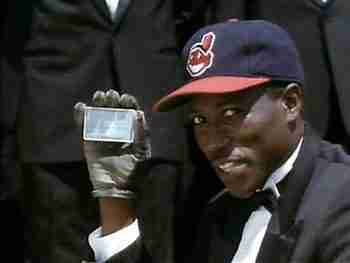 For the record, this nomination is for ONLY the Wesley Snipes version in Major League and not the Omar Epps portrayal in Major League 2. This is not a shot at Epps, who was an excellent choice for many sports movies, but following the charismatic Snipes was nearly impossible.
As Willie "Mays" Hayes, Snipes' character may not have been essential to move the plot along, but he brought a cool factor that the movie may not have had otherwise. Hayes was a dynamic leadoff hitter with swagger (before anyone knew what that word was) with great one liners throughout. The best statement we can say is that ML2 suffered a lot by not having Snipes repeat the role, although we do have to say one thing….we have a hard time believing that Hayes, could never hit the long ball!
The Bullet Points:
Movie Appeared:
Major League (1989)
Actor:
Wesley Snipes
Position Portrayed:
Centre Field
Played for:
Cleveland Indians
Why you

should

vote for him:
His portrayal rendered Omar Epps (a damned good actor for athletic roles) obsolete.
Why you

should not

vote for him:
As nice a role as that was, it wasn't even the best in the movie.
{youtube}
RH3I-IE0Xhw
{/youtube}