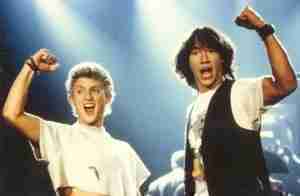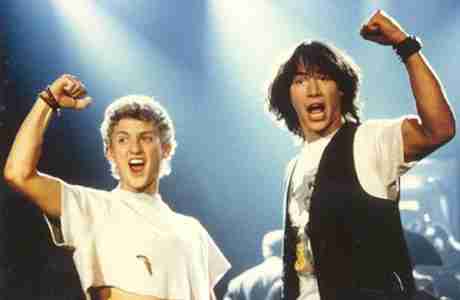 We will admit we are torn on this one. We know that we are not the only ones who love the two Bill & Ted films. It is a pair of cult classics and one of the rare films that straddles the line of cheese without becoming a "so cheesy it is good" film. The whole point of the films is that the Wyld Stallyns music is what brings "excellence" to Earth, but the problem is that in the first movie they stunk musically, and in the sequel, we never actually heard anything they really did. This could affect what should be a top contender for the Fictitious Rock and Roll Hall of Fame.
The Bullet Points:
Movie Appeared:
Bill & Ted's Excellent Adventure (1989)
Bill & Ted's Bogus Journey (1991)
Actors:
Keanu Reeves (Ted Logan)
Alex Winter (Bill S. Preston)
Songs you might remember:
Sadly…none…other than them doing "Excellent" on air guitar.
Why you

should

vote for them:
They saved the world, dude!
Why you

should not

vote for them:
Name one song they did? We can't either.
{youtube}
AtT4FFX4g1g{/youtube}