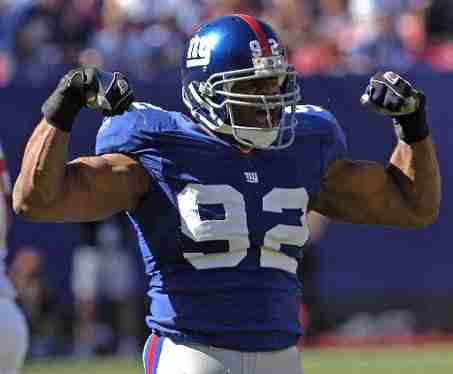 The first few professional seasons of Michael Strahan's career were solid, but largely non-descript and did not showcase what we feel would eventually amount to a Hall of Fame career. However, once the gap toothed one found his groove, there was no looking back.
Michael Strahan emerged as the defensive anchor for the New York Giants and would become one of the top players in football. In 1997 he broke out with 14 sacks and netted his first of seven Pro Bowls. He would later set the single season sack record (though it is often suggested that his record breaking victim, Brett Favre laid down to give him the record) and would record double digits in sacks six times.
With a Super Bowl Ring and a post gridiron broadcasting career keeping him in the National spotlight, all signs point to Michael Strahan as a serious threat to enter Canton early in his eligibility.
The Bullet Points:
Country of Origin:
Houston, Texas, U.S.A.
Eligible Since:
2012
Position:
Left Defensive End
Played for:
New York Giants
College:
Texas Southern
Drafted:
2nd Round, 40th Overall in 1996
Major Accolades and Awards:
NFL Defensive Player of the Year (1) (2001)
Pro Bowl Selections (7) (1997, 1998, 1999, 2001, 2002, 2003 & 2005)
First Team All Pro Selection (4) (1997, 1998, 2001 & 2003)
Second Team All Pro Selection (2) (2002 & 2005)
Most Sacks (2) (2001 & 2003)
NFL 2000's All Decade Team
Super Bowl Rings (1) (New York Giants, Super Bowl XLII)
Other Points of Note:
Top Ten Finishes: Sacks (6) (1997, 1998, 2001, 2002, 2003 & 2005)
Notable All Time Rankings:
5. Sacks: 141.5
Years Nominated for the Hall of Fame:
None


Should Michael Strahan be in the Hall of Fame?
Definitely put him in! - 75%
Maybe, but others deserve it first. - 12.5%
Probably not, but it wouldn't be the end of the world. - 0%